Visitation: Visitation will be Monday, March 19, from 2-8:00 p.m. at Anderson Funeral Home, with family present from 6-8:00 p.m.
Service: Service- 10:00 a.m. Tuesday, March 20, 2018, Canton Lutheran Church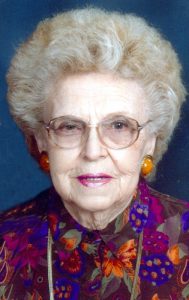 Doris Pedersen, 92, passed away Wednesday, March 14, 2018 at Canton Good Samaritan Society. Her funeral service will be at 10:00 a.m. Tuesday, March 20, at Canton Lutheran Church. Visitation will be Monday from 2 – 8:00 p.m. at Anderson Funeral Home in Canton, with family present from 6 – 8:00 p.m.
Doris was born May 3, 1925 on a farm near Canton, SD to Oscar and Ethel (Leonard) Johnson. She attended country school and graduated from Worthing High School.
Doris was united in marriage to Raymond Pedersen March 20, 1948 in Canton. They farmed near Canton, Doon, IA, and Ellsworth, MN, before moving back to Canton in 1960. Besides raising three children, Doris was a bookkeeper for their businesses, Pedersen Station and the Wheel. She also worked at Farmers Lumber, State Farm Insurance, and Gaspar Chevrolet. She was a member of Canton Lutheran Church and a life member of the VFW Auxiliary. She was very involved in her children's and grandchildren's lives and will be dearly missed. Her husband, Ray, died in 2008.
Grateful for having shared her life are her children- Deborah (Michael) Pederson, Canton, Marcia (Layne) Burgess, Canton, and Dennis Pedersen, Phoenix, AZ; six grandchildren- Codi (Tim Buckley) Albers, John (Lisa) Pederson, Calli (Cody Kroger) Pederson, Ben (Jena) Burgess, Mandy (Jeff) Grosky, and Austin (Tristen Farnsworth) Pederson; twelve great-grandchildren; and several nieces and nephews.
Doris was preceded in death by her parents, her husband, Ray, brother, Orville, sisters- Esther Sweeter and Vera Bong, and special friend, Scott Robinson.