Service: Service- 2:00 p.m. Saturday, August 16, 2014 Grand Valley Lutheran Church, rural Canton
Topeka, KS.  Clifford "Kip" Mickelson died on August 9th, 2014 in Topeka, KS, as a result of injuries sustained in an automobile accident.  His memorial service will held at 2:00 p.m. Saturday, August 16, 2014 at Grand Valley Lutheran Church south of Canton.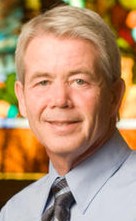 Kip was born in Canton SD April 7, 1955 to Naomi and Vernon Mickelson. Kip grew up on the farmlands of Canton and graduated from Canton high school in 1973. Kip graduated from Concordia University of Moorhead Minnesota with a degree in music and religion. Kip's love for music lead him to the First Baptist Church of Rapid City where he was the minister of music for several years. He then went on to pursue a M. Div from Eastern Baptist Theological Seminary and graduated in 2000. Kip then went on to pastor several churches of the ABC-USA. He was currently senior pastor of Westside Baptist Church in Topeka Kansas.
Kip was proceeded in death by grandparents Hilma and Albert Mickelson, and parents Naomi and Vernon Mickelson.
He is survived by his children Kate (Victor Albarran) and Luke (Tessa) Mickelson, grandson Leo Mickelson, his sister Christie (Mickelson) Donaldson, many nieces and nephews, childhood friend Jerome Holter, and close friend Pam (Anderson) Meier, and many other friends throughout the country and the world.