Visitation: Monday, Nov. 12, 2012 4-8:00 p.m. Family present from 6 -8:00 p.m. Anderson Funeral Home
Service: 10:30 a.m. Tuesday, November 13, 2012 Canton First baptist Church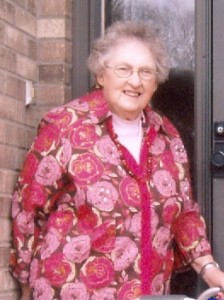 Wava L. Burgess, 91, passed away Saturday Nov. 10, 2012 at Canton Samaritan Society.  Her memorial service will be at 10:30 a.m. Tuesday, Nov. 13, at Canton First Baptist Church.  A private family burial will be held at Forest Hill Cemetery prior to the service.  Visitation will be Monday from 4 – 8:00 p.m. at Anderson Funeral Home in Canton, with family present from 6 – 8:00 p.m.  Memorials may be directed to Canton Good Samaritan Society or Canton First Baptist Church.
          Wava Lorraine Hoover was born June 3, 1921 at Chancellor, SD, to Elmer and Marion (Anderson) Hoover.  She married Herbert Burgess Dec. 11, 1944    and made their home in Canton.
          Wava was a homemaker who also did cleaning for local businesses.  Her hobies included: bowling, gardening, embroidery work, baking, listening to country western music and Twin's games.  She loved home decorating and collecting dolls.  She received several awards for her ceramic pieces.  She also enjoyed quilting with her mother.
          Survivors include: two sons, Richard and Layne (Marcia) both of Canton, SD; two daughters, Karen Burgess-Gibson (Pat), Sioux Falls, SD and Barb Hartland (Warren) Canton, SD; three grandchildren; three great-grandchildren; two brothers, Lowell (Julie) Hoover, Champlain, MN and Kenny (Norma) Hoover, Sioux Falls; sister-in-law, Bonnie Hoover, Canton, SD; and several nieces and nephews.  She was preceded in death by her parents, husband, sister, Hope Cruse, and two brothers, Eugene and Dwight Hoover.  www.andersonandsonsfh.com