Service: Local funeral services will be at 10:30 a.m. Tuesday, December 1, 2015 at Redeemer Free Lutheran Church in Canton. Burial and funeral services will be held in Portland, OR on Friday, Dec. 4.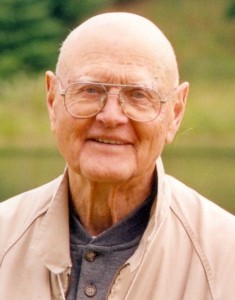 Warren H. Bolin passed away on November 20th, 2015 at the age of 95 years.
Warren was born on Nov. 7, 1920 in Portland, Oregon. He spent his youth attending Portsmouth Grade School and then attended Roosevelt High School in Portland where he was active in sports, especially football and baseball. After high school, Warren attended Linfield College, a small liberal arts institution outside of Portland in McMinnville, where his only brother, Clarence, was a student. Here, Warren again was active in sports, winning six letters, two in football, and four in baseball. On December 7, 1941, while a junior in college, Pearl Harbor was attacked. Warren joined the navy in the spring of 1942 but was enrolled in a program that allowed him to finish college before going through training to be an officer in the U. S. navy. Warren graduated from college in June 1943 and was immediately sent to Notre Dame University for summer training with many other young naval officers. That fall, Bolin traveled, along with other young Americans, to the European war theatre to join in the fight against Nazi Germany and Fascist Italy. During his naval career, Bolin rose to the rank of Executive Officer on the LST 601, the second ranking officer on the ship. Warren served in the armed forces until the spring 1946, when he was honorably discharged from the United States Navy.
He returned to Portland and began a career in education. In the fall of 1946, he taught grade school in the small town of Estacada, Oregon. That summer, while taking classes at the University of Oregon, he met the love of his life, Jean Read. They were married in May 1947, and from that relationship four children were born: Barbara Jean, James Warren, Daniel Stuart, and Paul Erik. In 1947, Warren taught at Peninsula grade school in Portland, but in 1948 he transferred to Washington High School. He also coached at Washington High School from 1948-1958 and then at Madison High School in Portland from 1958-1982. Bolin taught American History, but primarily geometry during his teaching career and was a head baseball coach at both Washington and Madison and assistant football coach at both schools. One of many highlights of his coaching career was winning the Portland city football championship in 1975 over the #1 rated team in the state, the Benson Techmen. That victory came on Nov. 7, 1975 his fifty-fifth birthday and the story of his birthday and the great upset victory was featured prominently in the local newspapers and television stations.
The greatest event of Warren's life took place August 1st, 1950 when he became a Christian while listening to a presentation of the gospel preached by a young evangelist, Billy Graham. Warren heard and responded to the message of salvation and it changed his life and that of his young family. Warren lived in the same neighborhood of Portland, (St. John's), for most of his life. However, in 2008 he moved to Canton, South Dakota to live near his oldest son, James. He resided in Canton until his death on November 20, which was directly related to a serious fall in his residence and the medical complications from that event. While in Canton, he faithfully attended the Redeemer Free Lutheran Church and made friends and acquaintances there. Warren was preceded in death by his father and mother: Swan and Harriet; his wife, Jean; his only sibling, Clarence, and his granddaughter, Catie Bolin. He is survived by his four children Barbara, Beijing, China; James, (Ruth) Canton, SD; Daniel, (Cay) Tyler, Texas; and Paul, (Jane) College Station, Texas; five grandchildren and two great grand children.
Local funeral services will be at 10:30 a.m. Tuesday, December 1, 2015 at Redeemer Free Lutheran Church in Canton. Burial and funeral services will be held in Portland, OR on Friday, Dec. 4. Memorials may be directed to the Redeemer Free Lutheran Church building fund or a charity of your choice.