Service: A memorial service and burial will take place at a later date.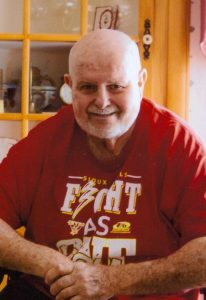 Walter L. Staude, age 82, died from COVID-19 complications, Friday, November 13, 2020 at Avera McKennan Hospital.  A memorial service and burial will take place at a later date.  In lieu of flowers, memorials may be directed to the Canton Wrestling program or the Canton Senior Center.
          Walter Lee Staude was born on December 9, 1937 at St. Anthony's Hospital in Denver, CO to Walter E. and Frances LeRoy (Landrum) Staude.  He attended Barum School and then Denver West High School, graduating in 1956.  From 1956 – 1957, Walt attended University of Denver.  In 1959, he graduated from Northeastern Junior College with an AA degree.  In 1961, he attended and graduated from Colorado State College (University of Northern Colorado) with a BA in history and mathematics.  Walt graduated from Northeast Missouri State (Trumann University) with a MA in administration in 1976.
          From 1961 to 1984, he taught at Woodlin School near Woodrow, CO assuming many positions: teacher, wrestling coach, athletic director, and principal.  On August 9, 1980, Walt married Sharon Faith (Boelman) in Aplington, IA.  In 1984, they moved to Strasburg, CO where he taught and coached at the local high school.  Their next move was in 1987 to Canton, SD where he taught and coached until his retirement in 2000.
          Walt was a member of the Woodlin Lion's' Club for 25 years.   In his early years, he enjoyed hunting, fishing, and traveling.  He was an avid sports fan, who also enjoyed listening to his juke box and playing bridge and pinochle at the Canton Senior Citizen Center.  He was a member of the Bethany Reformed Church in Canton, SD.
          Grateful for sharing his life are his wife of 40 years, Sharon; brother-in-law David Boelman, nephew and niece-in-law, Brandon and Valerie Boelman, and grandnephews, Brody and Kellen, all from West Des Moines, IA; sister-in-law, Pat Boelman of Sioux Falls, SD; stepsister, Valerie Hager and step-niece, Kathy Hager, both of Colorado; along with numerous extended family and friends.   Walt was proceeded in death by his parents, stepmother, Margaret Staude, sister-in-law, Julie Boelman, and brother-in-law, Marvin L. Boelman.