Visitation: Visitation will be Thursday from 2-8 p.m., family present 5-7 p.m., at Anderson Funeral Home in Canton.
Service: Funeral services will begin at 10:30 a.m. Friday, July 27 at Lands Lutheran Church, rural Hudson, SD.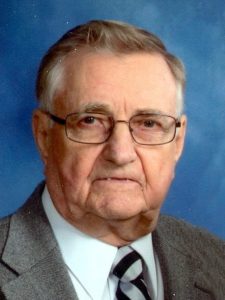 Walter Stansmore Sogn, 90, died July 24, 2018, after a long and wonderful life filled with faith, family, and friends.
Walter was born September 29, 1927, to parents Kasper and Nora (Jackson) Sogn. He was the sixth child, with two brothers and three sisters.
Walter grew up on a farm south of Canton. He attended Jensvold and Highland Center schools, one-room country schoolhouses. In first grade he met classmates who remained Walter's best friends throughout his life.
By age eight one of his chores was to drive the farm truck the one-half mile on a gravel road to pick up the mail. His first paying job was trapping pocket gophers, earning 50 cents apiece.
Kasper died of a stroke following a farm accident when Walter was 12, with his siblings stepping-in to help Nora raise Walter.
When Walter was 16, he lived with his sister, Florence, and her husband in Gregory, where he worked at a gas station and also drove trucks filled with grain or livestock.
He returned to Canton and graduated from Augustana Academy in 1946. Walter then enlisted in the United States Marines. As World War II had ended, he was granted an early honorable discharge in 1947, after which he attended Augustana College for two years.
In 1944 he met June Hinsvark, of Renner. On their first date they went with another couple to a movie in Sioux Falls. Walter was anxious to see her again, but not owning a car, the next day he talked a friend into driving to Sioux Falls, on the premise the movie was so good the friend had to see it. While his friend was at the movie theater, Walter took the car to Renner to see June.
Walter and June were united in marriage on June 9, 1950. They made their home on a farm south of Canton for 48 years. To this union six children were born. There was always plenty of work for the kids to do on the farm, but Walter and June also made sure there was plenty of fun including board games, family dinners, summer vacations and using the tractor to pull a toboggan overloaded with kids.
In addition to farming, Walter served as Auditor for Lincoln County from 1965 to 1970. In 1970 he began his career in the insurance business with Farm Mutual Insurance Company in Canton. For many years Walter and June worked together in the office, until selling the agency in 1992.
Walter and June enjoyed 48 years of a loving marriage before June passed away in 1998.
As with most farmers, Walter was a skilled self-taught engineer, architect and carpenter. This included designing a major house remodeling of the farm homestead in 1978, and after June's passing, designing and being actively involved in building his home on Plum Creek Road in Sioux Falls. Another design project included remodeling the narthex and installation of an elevator at Lands Lutheran Church, where Walter was a lifelong member.
At age 85, Walter designed and built a treehouse in the backyard of his Plum Creek home. This was no ordinary treehouse, but one that the Swiss Family Robinson would envy. He also excelled at landscaping, his yard lush with a beautiful array of plants and flowers.
Walter was blessed with two loves in his life. Seven years after June's passing, Walter reached out to a childhood friend, Beverly Fossum Sendelbach. Beverly was in the same confirmation class as Walter in their youth, and her husband had passed away several years earlier. Beverly was living in Pipestone at the time, and they went out for a piece of pie and a cup of coffee. The relationship blossomed, and they were married on April 21, 2006. They made their home on Plum Creek Road for 11 years, moving to Primrose Retirement Community in 2017. For 12 years Beverly brought joy to Walter's life, not to mention delicious home cooking to their table. She is a delight and a blessing.
Walter also cherished his many good friends and looked forward to sharing time and laughs with them, whether working shoulder to shoulder on some project, playing pinochle, bowling, golfing, or enjoying dinner and coffee.
Walter's story would not be complete without mentioning his faith. He lived his life in service to our Lord, always knowing after his life on earth was done, God has prepared for him a glorious home where Walter is reunited with loved ones who passed on before him and allowing him to make the trip easier for those who follow.
Walter is survived by his wife Beverly; four daughters and their spouses, Ruth and Paul Prentice, Colorado Springs, Colorado, Marcia and Rodney Knutson, Elk Point, Sheila and Spencer Kittelson, Sioux Falls, and Jean and Jeff Parupsky, Brooklyn Park, Minnesota; two sons and their spouses, Marcus and Karin Sogn, Westport, Massachusetts, and Jon and Kristy Sogn, Sioux Falls; step-sons Chuck Sendelbach (wife Dory) and David Sendelbach.  He also was blessed with 28 grandchildren and 26 great-grandchildren. He was preceded in death by his bride June, parents, siblings Florence Dale, Emily Sogn, Kenneth Sogn, Wilmer Sogn and Edith Magnuson, step-daughter-in-law Julie Sendelbach, and grandson Nate Kittelson.
Funeral services will begin at 10:30 a.m. Friday, July 27 at Lands Lutheran Church, rural Hudson, SD.  Visitation will be Thursday from 2-8 p.m., family present 5-7 p.m., at Anderson Funeral Home in Canton.