Service: Memorial Service- 1:00 p.m. Friday, June 6, 2014 at Anderson, Jones, Corcoran Funeral Chapel, Harrisburg, SD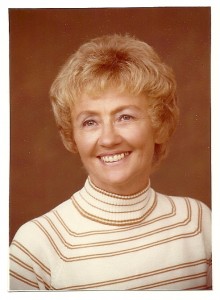 Violet R. Brewer, the daughter of Ragna and Berger Tonneson, was born November 19, 1926 in Inwood, Iowa.  She was graduated from Harrisburg High School in 1944 and married Richard A. Brewer in 1946.  She was a military wife and mother and lived in the East and Southern United States and also France.  Richard died in 1958 and Violet moved with her children to Sioux Falls, South Dakota, where she worked in the Athletic Department at Augustana College for many years.  The summer of 1974 she moved from Sioux Falls to the Los Angeles area of California, where she worked at Chaffey College until her retirement.   Violet moved to the Minneapolis area where she died on April 6, 2014.  She was preceded in death by husband, Richard, and her son Baron Richard; parents and Sister Sylvia Helgeson and her husband, Earl;  Sister Gerd Olson; and Sister-In-Law Beverly Tonneson.  She is survived by daughters Vickie Reph (Ron), Brainerd, Minnesota; and Denise Bailey (Mike), St. Anthony, Minnesota; brothers Carl Tonneson and Bjarne Tonneson and his wife Patricia and by her grandchildren, great grandchildren and many nieces and nephews.
Her memorial service will be held at 1:00 p.m. Friday, June 6, 2014 at Anderson, Jones, Corcoran Funeral Chapel in Harrisburg, SD.  Burial will be at Pleasant View Cemetery in Harrisburg.