Service: Due to COVID-19, a celebration of life and memorial service will take place in the spring of 2021.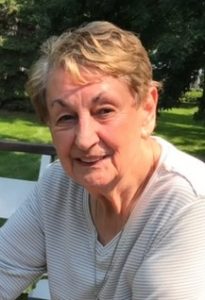 Sylvia Reimers,  86, passed away on Saturday, November 7th 2020 at Canton Good Samaritan Society.
                 Sylvia Rose Pappas Reimers was born January 20, 1934 in Sioux City, IA. She was raised by her loving mother Minnie Sather. She graduated from Sioux City high school and attended Morningside college.
                At age 12, she met a young man named Bobby Reimers at bible camp in Lake Shetek. While she may not have remembered the meeting, her future husband did. Memories from Bible Camp burned in Bobs' mind. Eight years later when Bob was a sophomore in college, he pursued Syl and she became his bride in 1955.
                Sylvia was a dental assistant for few years then became a homemaker for many years before re- entering the workforce at McCord Corporation in Canton SD.  She was excellent at the highly technical skill of brazing. Later, mostly for entertainment, she enjoyed working at the Canton Livestock Sales Barn café.
                Always ready for adventure, she enjoyed spending the early years of their marriage in Santa Monica, CA. where their son Tom was born. When they returned to Canton, they completed their family when Heidi was born.
                She loved family, friends and food – preferably all together. She started planning for Christmas in July, and never lost her excitement for the family getting together for holidays. Her memories will provide fun filled stories for years to come.
                Sylvia is survived by her husband Bob and children Tom (Kristi) Reimers and Heidi (Charles) Conley; grandchildren: Melissa Hasty, Courtney Herndon, Sarah Reimers, and Laura (Jordan) Warnock; and great-granddaughter; Lilly Hasty.
                A special thank-you to Brenda Heggen and the community of Canton for providing Sylvia with an amazing quality of life and support during the last years of her life.
                 Memorial contributions can be made to Canton Lutheran Church.  Due to COVID-19, a celebration of life and memorial service will take place in the spring of 2021.