Visitation: Visitation at Anderson Funeral Home in Canton will be Thursday from 2-8 p.m. with family present from 6-8 p.m. and a 7 p.m. prayer service.
Service: Funeral services will begin at 10 a.m. Friday, August 3 at Canton Lutheran Church with burial to follow at Forest Hill Cemetery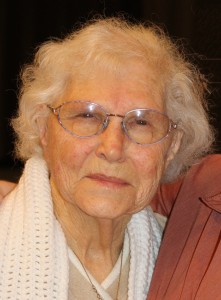 Canton.  Sylvia K. 'Mickey" Johnson, age 88, died Sunday, July 29, 2012 at her home in Canton.  Funeral services will be at 10:00 a.m. Friday, August 3, 2012 at Canton Lutheran Church, with burial at Forest Hill Cemetery near Canton.  Visitation will be Thursday from 2 to 8:00 p.m. at Anderson Funeral Home in Canton, with family present from 6 to 8:00 p.m.  A Prayer Service will begin at 7:00 p.m. 
                Mickey was born April 17, 1924 at Belvidere, SD, to James and Mary (Ded) Kejsar.  She graduated from high school at Hastings, NE.  She was united in marriage to Orville Johnson July 21, 1951 in Brookings, SD.  They made their home in Canton, where they raised their four children.    Her husband died in 1981.
                Mickey was an active member of Canton Lutheran Church and WELCA since 1954.  Her faith and family were very important to her.  She and her husband owned and operated the Music Box Roller Rink for many years.  She worked for the Argus Leader as a District Manager in Canton and as a security guard for McCord's Manufacturing in Canton.    She was a long time member of the Canton VFW and American Legion Auxiliaries.  She enjoyed volunteering, delivering meals for Meals on Wheels, and was treasurer at the Canton Senior Citizen's Center for several years.  Her hobbies included: gardening, crafts, reading, bird watching, and crocheting afghans for family and friends.
                Grateful for having shared her life are: her children- LeRoy (Cynthia) Johnson, Lakeview, OR, Douglas (Carla) Johnson Sioux Falls, SD, and Laurie (Don) Cole, Canton, SD; seven grandchildren- Cody (Jamie)  and Jessy (Deidra) Johnson, Michele (Rusty) McNair, Elizabeth Johnson, Brandi (Kelvin) Tifft and Jay and Alexis Cole; and 8 great-grandchildren- Cameron, Orin, Ian, Riley, Lilla, Austyn, Jaiden and Zoey; and four sisters- Alice Thatcher, Woodburn, OR, Frances Atwater, Sacramento, CA, Irene Chambers and Mary Wilkinson both of Klamath Falls, OR.   She was preceded in death by her husband, Orville; her son, Orville, Jr., and one brother, James.