Service: Sylva's memorial service will be at 2:00 p.m. Saturday, Oct. 13, at Canton United Methodist Church.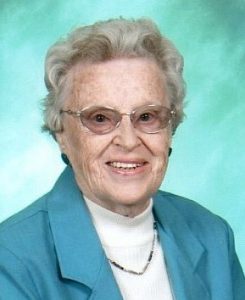 Sylva L. Ulrickson, 92, passed away Sunday, October 7, 2018 in Canton, SD.  Her memorial service will be held at 2:00 p.m. Saturday, Oct. 13, at Canton United Methodist Church.
Sylva was born November 5, 1925 in Canton, SD to Seth and Judy (Walquist) Manning.  She attended school in Canton, graduating in 1943.
Sylva married Allen "Bud" Ulrickson on February 9, 1946 at Luverne, MN.  The couple farmed south of Canton where they raised 3 children.  Sylva worked at the Lincoln county Courthouse from 1963 until her retirement, working in the Superintendent of Schools Office and the Auditor's Office. Bud died in 2000.  Sylva enjoyed handwork which included: hardanger, quilting, knitting and crocheting scrubbies.   She also kept busy playing pinochle, bridge, and Mahjong.  Sylva was active in the Canton United Methodist Church, loved to travel and treasured her Tuesday morning coffees with her courthouse friends.
Sylva is survived by her children- Tom and his wife, Susie, Manning, IA, Mary Ulrickson Brown and her husband, Brad, Golden Valley, MN, and Amy Simunek and her husband, Roger, Canton, SD; 6 grandchildren; and 13 great-grandchildren.  Sylva was preceded in death by her parents, her husband, Bud, and her brother, Duane Manning.   Memorials may be directed to the Canton Community Center Building Fund.