Visitation: Visitation will be Monday, February 5 from 12-5pm, family present from 1-5pm, at Anderson Funeral Home in Canton, SD.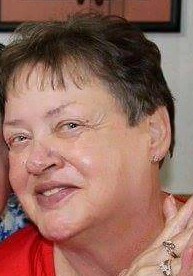 Suzanne Louise Zahn Beard was born on March 7, 1946 in San Francisco, California. Suz was the second oldest child to Joseph Anton Zahn and Alta Belle (Pulse) Zahn. Suz died February 1, 2018 at Sanford Canton Inwood Hospital after a nearly four-year fierce and brave battle with pancreatic cancer.
            Suz graduated from Redfield High School in 1964. She attended Stewart's School of Hairstyling in Aberdeen and graduated in 1965. Suz worked in a beauty shop for Evelyn Chambers in Redfield, SD for many years. Suz enjoyed working at Drake's Greenhouse in Academy, SD and prior to retirement, she was a cook at Dairy Queen in Canton, SD.
            Suzanne married her best friend's brother, Loren Harvey Beard on May 11, 1974, in Redfield, SD. They raised two daughters Alta Shaleen (Beard) Allen and Brodie Lee (Beard) Sorlie. Suz's husband, Loren, worked for SD Game, Fish and Parks which allowed the family to live in many towns in South Dakota and amass an army of close friends.
            One of Suzanne's favorite homes was in Platte, South Dakota where she and her family lived in the park residence of Snake Creek Recreation Area. Suz was able to fish nearly every day. Fishing either alone or with family brought her great joy. Suzanne also enjoyed her flower gardens and watching hummingbirds.
            Suzanne's family was her whole world. Weekends were spent with brother, sisters, or cousins where card games determined who cooked breakfast, eclectic music set the tone and with a houseful of wild children, adult beverages were a must.
            When she earned her title as Granny, she took her role seriously. She preferred the sight of baby handprint smudges to clean mirrors and windows. She rocked each baby with a special lullaby. There were always treats, favorite meals and rewards for good grades.
            Suzanne is survived by her husband Loren; her daughters: Shaleen Allen of Alcester and Brodie (Jon) Sorlie of Hudson; her four grandchildren: Cheyenne Sorlie, Corbin Sorlie, Brinlee Allen and Declan Allen; her sisters: Brigitta (Dale) Diede of Mission Hill, SD and Jane (Cliff) Jensen of Lockport, NY; and her nieces and nephews: Tami (Diede) Johnson, Nick (Steph) Diede, Gentry (Tiffany) Jensen, Dru (Charlene) Jensen, and Shzahni Jensen. Suzanne is preceded in death by her grandparents, parents, and her brothers: Joey (infant, 1952) and Bill (2015).
            Suzanne also shared her life with a plethora of pets and shed many tears for every one that crossed the Rainbow Bridge. She leaves behind her dogs, Abby and Boomer and her cats, Hannah and Magee.
            Visitation  will be Monday, February 5 from 12-5pm, family present from 1-5pm, at Anderson Funeral Home in Canton, SD.