Service: Sigvor requested no services be held and her body be donated to the USD Medical School.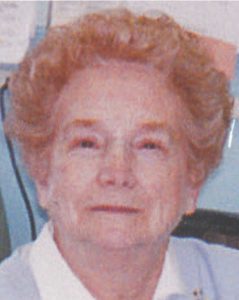 Sigvor Overby died Wednesday, July 31, 2019 at 96, just a week before her 97 birthday. She had a full life and met her tough times head-on.
        Sigvor was born in Norway in 1922 and lived through the five-year German occupation of her homeland 1940-1945. She came to America in 1947 without knowing English. Slowly she learned the language listening to the radio and in talking with neighbors and her husband, Martin.
        Martin died in 1954 leaving Sigvor with three young kids, the oldest just five. With her husband's two sisters initially helping to pay off the mortgage, she kept the house. She took in laundry and did ironing for neighbors and went to Canton High School for two years at the age 35 to learn typing and shorthand. She became a citizen in 1955 after seven years residence.
        Sigvor became a Deputy Clerk of Courts in 1961 and finally Clerk of Courts in 1972. It was an elected office at that time and she was reluctant to run. When someone asked why she wasn't on the campaign trail, Sigvor in all modesty asked "Would you really vote for me," and the person who I think was Judge said "heck yeah" or words to that effect.
        She remained Clerk of Courts of Lincoln County for 20 years, retiring in 1992 at the age of 70. There were a number of trips to Norway in the 90's and she enjoyed volunteering, playing bridge, and being in a group of 8-10 former court house gals who for years would rotate meeting in each other's houses every Tuesday morning for coffee and rolls.
        She was only five feet tall but with her character, some people a lot taller would stand in her shadow.
        There was no funeral per her wishes and her body was donated to the University of South Dakota for medical research.