Visitation: Family will greet visitors one hour prior to the service
Service: Memorial services will begin at 2:00 p.m. Monday, March 14 at Anderson Funeral Home in Canton, SD.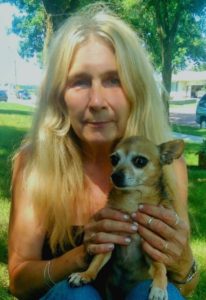 Sheryl Ann Walters, age 60, of Canton, SD passed away March 4th, 2022 at the Sanford Heart Hospital in Sioux Falls, SD.
        Sheryl was born on August 28th, 1961 in Fort Leavenworth, Kansas to Allen & Doris (Dargatz) Niesen. She grew up in Kansas with her 1 brother and 2 sisters. She spent childhood in Kansas including Fort Leavenworth, as her father was in the military.
        Early adulthood she moved to North Branch/Harris, MN where she met David Walters. They married, on April 23rd, 1982 in North Branch, MN. Shortly after, they had a son, David. He was her pride and joy. They moved to Pine City, MN to raise their son. They divorced in 1993. After David (son) finished school, Sheryl moved to Wilmer, MN. When her granddaughter Bailey was born, she moved to Canton, SD to be closer to family. This is where she spent the remainder of her days.
        She spent many years working in factories, bartending, and breaking horses. Two things Sheryl loved in her life: her family and animals. She spent many hours doing arts and crafts, hiking, and being one with nature with her son and grandkids. In her earlier days she made a living breaking and raising horses but she was always known to have many pets. Cats, dogs, ferrets, birds, goats, cattle, and horses especially her horse Tash, and chihuahua Bella.
        She is survived by her son David Walters (Canton, SD) and Jennifer Burns (Sioux Falls, SD), his two children Bailey Walters and Charles Walters.
        She was preceded in death by her former spouse, David D. Walters and both her parents.
        Services will be held on Monday March 14th at 2 pm by Pastor Brian Quall at the Anderson Funeral Home in Canton, SD. Family will be available at 1 pm to greet guests. Honorary pallbearers: David Walters, Bailey Walters, Charles Walters, and Arnie Lundstrom.