Visitation: One hour prior to the service.
Service: Funeral services will begin at 10:30 a.m. Friday, January 21 at Canton Lutheran Church.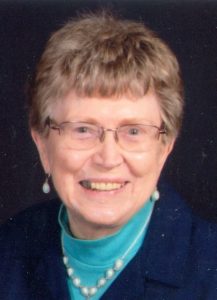 Selma "Sally" Asper Escher, age 98, died Sunday, January 16, 2022, surrounded by her girls, at Bethany Home in Sioux Falls, SD.  Funeral services will begin at 10:30 a.m. Friday, January 21 at Canton Lutheran Church.  Family will greet visitors one hour prior to the service.
          Selma Bernice Fredrikson was born on March 26, 1923, on a farm in rural Hudson, SD to Bent and Borgny (Bjorlykke) Fredrikson, the middle of five children.  While she grew up on the farms in the Hudson area, she also lived and worked for families living closer to town so that she could attend high school.  She graduated from Hudson High School in 1940.  Sally attended Lands Lutheran Church, where she met a musical and handsome young man named Charles Asper, who at one time dated her older sister, Anne, but ended up falling in love with Sally.  Chuck worked at Boeing in California during WWII, and Anne and friends drove Sally to California when she moved there to be married to Chuck.  They were married on December 31, 1941.  While in California, Sally attended business school. They returned to rural Alcester, SD, so that Chuck could work on his parents' farm.  They had three daughters and one son. They spent many hard-working, but happy years on the farm, until Chuck's untimely death on May 12, 1959.  Sally then moved with the children into the home on Lincoln Street in Canton, SD, and began working that summer for Archie Gubbrud's campaign for Governor and winning the election for County Treasurer, where she made many life-long friends.  It has only been a few years since Sally became unable to attend the weekly retired courthouse ladies' coffee on Tuesday mornings.
          Sally raised the children, worked, attended Canton Lutheran Church, including serving on the church council, was a charter member of the Canton Sons of Norway, participated in the Business and Professional Women's group, bowled in a league, enjoyed the grandchildren, and otherwise thrived in Canton.  Her children remember their dad untying her apron when her hands were wet, her turning on the porch light when they didn't promptly get out of their date's car, and her rule that no one could go out with friends until everyone had finished their chores.    Her grandchildren especially remember from this time chocolate shakes, her hugs, the smell of toast and grape jelly toast cut into triangles, her easy laugh, the marble game, her library of Dr. Seuss books, watching her bowl, playing Old Maid, her satin pillowcase, the bench in the kitchen, her soft skin, the smell of lutefisk at Christmas (thankfully there were always Swedish meatballs for the grandkids), midnight candlelight services on Christmas Eve (especially the year a granddaughter received a walking baby doll as a present, which turned on during a quiet moment of church – Sally laughing as she tried to figure out how to turn the noisy thing off), family pictures on the big stone front porch, that she would buy the grandsons noisy toys and laugh, and the calm, warmth and love of her home.
          At a retirement planning seminar, Sally met Gene Escher.  Sally and Gene were married on August 19, 1978, a warm and sunny day, at her daughter Cherri's home in Valley City, ND, surrounded by her family.  Sally and Gene lived in various apartments in Sioux Falls, SD during their marriage.  Upon their retirement, they did some traveling, near and far.  They began enjoying the "RV life" and travelled around the country with their fifth wheel.  When hauling the fifth wheel became more difficult, they bought a place in Mesa, AZ, to spend their winters.  They enjoyed golfing, playing cards, and entertaining family that came to visit and bask in the warmth and sun, and made many close friends while in Arizona.
          When Gene's health began failing, they moved permanently back to Canton, and into assisted living at Hiawatha Heights.  Gene passed away on June 11, 2015.  Sally continued to live at Hiawatha Heights and enjoyed her time there, and the staff took great care of her.  Eventually, Sally's dementia required that she move into memory care.  She lived at the Inn at Westport in Sioux Falls until her death.
          Grateful for sharing her life are her daughters, Cheryl (Larry) Tessmer, Louise (Jerry) Johnson, Nancy Fust; her son, Rich (Kathy) Asper; step-son, Tim (Aileen) Escher; grandchildren, Laura (Stan) Moss, Christa (Jeff) Livermont, Nate (Sara) Risser, Eldri (Mitch Kniffen) Johnson, Kris Johnson, Dan Nelson, Nicole Pina, Melissa Graves, Marnie Bachman, and Sarah Conley; as well as 21 great-grandchildren, 3 great-great-grandchildren; and many special nieces, nephews, and friends. Sally is preceded in death by her parents; her husbands; her siblings, Anne (Gil) Halverson, Jake (Lorraine) Fredrikson, Burt (Betty) Fredrikson and Rachel (David) Larson; son-in-law, Larry Fust; and many close friends.  One can only imagine the joyful reunion!