Service: Family will greet visitors at a Celebration of Life from 1:00 to 3:00 p.m. Saturday, November 24 at Canton High School in the Commons Area.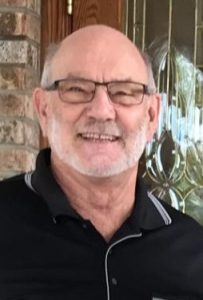 Ruel Eneboe, a former science teacher in Canton and Lennox, passed away Sunday, November 18, at Sanford Hospice Foundation Cottage in Sioux Falls.   Family will greet visitors at a Celebration of Life from 1:00 to 3:00 p.m. Saturday, November 24 at Canton High School in the Commons Area.
     Ruel Peter Eneboe, born September 7,1952 to Reynold and Lois (Anderson) Eneboe, lived most of his life in the Canton, SD area. He attended Highland Rural School, Canton High School, and Augustana College. Ruel has always had a desire to help and make a difference in others' lives. He wanted to pay forward from those who had influenced his life.
One of his great adventures in life was to become a Peace Corp volunteer. He spent 2 years in Liberia, Africa. It was there that he enjoyed his first taste of teaching. He was able to change and improve lives when he taught science and math to students in a one room school. He also was able to live near and influence his neighbors. He became exceptionally close to a young man, Seque. Ruel mentored, gave a job to, and befriended this young man and many others in his classrooms. He also had a chance to travel and experience life in many West African countries.
When Ruel, returned to SD, he worked as a chemist at EROS, outside of Garretson, SD.  It was there that he met and fell in love with his best friend and love of his life, Shelley Nicolai. They were married on August 9, 1980. Along with getting married, Ruel returned to Augustana to receive his teaching degree. He soon began his new career teaching Freshmen Science, Chemistry, and Physics at Lennox High School, later moved to Canton High School and began living on the Eneboe family farm.
The best and most favorite life goal for Ruel and Shelley was achieved when they become parents to two wonderful children, who they are very proud of, Rikka and Nicholas.
Ruel went on to receive a master's degree in education from USD and enjoyed a 30+ year teaching career, inspiring countless students along the way.  He was honored by being nominated by two of his former students and received the School of Mines Outstanding High School Science Teacher award.
After life as a high school teacher came to a close for Ruel, grandparenting became his favorite retirement hobby. Ruel and Shelley moved to Orange City, IA to be close to their three beautiful and creative grandchildren, Cadence, Camdyn, and Casey. Orange City also opened the door for Ruel to become a barista/mentor/listening ear at Northwestern College.
Ruel left a mark and made many students and people better with his sense of humor, can-do attitude, and "slow and easy wins the race" attitude. Among those who will miss him are his wife Shelley; his children Rikka, husband Dusty; Nicholas and girlfriend Anna; his grandchildren, Cadence, Camdyn, Casey; his father, Reynold; his siblings Randi, husband Gary; Ron, wife Darla; mother-in-law, Lois;  many cousins, aunts and uncles; and so many friends and neighbors.
Those who are celebrating in heaven with him are his Savior Jesus, his mom Lois, grandparents, and several uncles, aunts, and friends.
The family requests memorials be dedicated to Children Rescue International. This US based IRS 501(c)3 nonprofit operates in Liberia and cares for 32 orphaned children, 140 students, several Pastors, and is in the process of starting a medical clinic in a very remote county not too far from where Ruel served in the Peace Corp. Their office address is: Children Rescue International, 1001 E 17th St, Sioux Falls, SD  57105.