Visitation:  A visitation will be held on Sunday, August 27 from 3-5 p.m. at the Our Savior's Lutheran Church, Inwood, IA.
Service: A Celebration of Rosie's Life will begin at 10:30 a.m. Monday, August 28, 2023 at Our Savior's Lutheran Church, Inwood, IA.
Livestream: Click here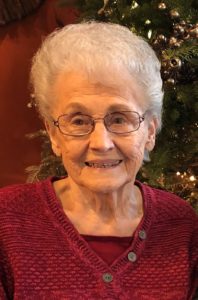 Rosella "Rosie" Ida Wiebe Stensland was born on July 27, 1933, on a farm south of George, IA to William and Marie (Ludwig) Wiebe, the seventh of eight children.  When she was a young girl, her family moved to Canton, SD and then to Beloit, IA where she attended grade school.  She was confirmed at Canton Lutheran Church in 1948 and graduated from Canton High School in 1952.  During her high school years, Rosie worked at various places including Peterson Paint Store, Lena's Cafe, the bakery, and as a car hop at the Drive-In where she waited on a handsome young man named Arty.  Later on, while he was home on leave from the Army, Rosie was united in marriage to Arthur Stensland on March 23, 1952 in Luverne, MN, after their initial wedding date was postponed due to a blizzard.  Instead of enjoying a honeymoon together, Art left for his assignment in Germany while Rosie finished her senior year at Canton High School.
            Following graduation, Rosie lived in Sioux Falls, SD, attended South Dakota Beauty Academy for Cosmetology, and then worked in the office at John Morrell & Co. while she waited for Art to return home from service in September 1953.  After Art's discharge, the couple lived and farmed near Larchwood (Klondike), IA.  They were blessed with 6 children, three daughters and three sons.  In addition to raising their family, volunteering at church, and helping on the farm, Rosie worked for 42 years as a cook in the West Lyon School District, retiring at the age of 76.  Seeing the grandkids and eventually the great-grandkids going through the lunch line was the highlight of her day, and the kids were equally excited to see Grandma.
            Rosie was a generous, sociable, and faithful woman who loved her family deeply.  Faith, family, and friends were most important to her.  She was constantly busy and was happiest when she could help others.  She always put others before herself and treated everyone like family.  She and Art always made sure everyone felt welcome in their home.  Rosie was a "mom"/"grandma" to many, especially her nieces and nephews who needed extra assistance or whose parents were no longer living.  She was also the ultimate multi-tasker.  On a typical late summer day, she could whip up a meal for her family of eight, in addition to the silage crew, while caring for six kids, washing and ironing clothes, canning peaches, and planning the lunch for a funeral at the church.  Rosie was an excellent cook and baker who loved to share her goodies with others.  Her delicious, mouth-watering chocolate cake, banana bread, buttermilk pancakes, raisin cream pie, and potato salad will be dearly missed by not only her family but also the countless friends and neighbors she shared them with.  Rosie often left the house carrying a freshly baked chocolate cake, covered in her signature fudge frosting, and protected by a plastic Pioneer seed bag, soon to be delivered to a lucky recipient.
            Rosie was always on the go, often on a mission to help others.  Her kids often complained that they couldn't keep up with her especially when walking somewhere.  "Slow down, Mom" was a frequent request.  Driving older neighbors, friends, and relatives to their medical appointments was another way she enjoyed helping others.  Rosie was a long-time, very active member of Our Savior's Lutheran Church where she participated in a variety of activities, including Ladies' Aid, heading up the funeral and wedding committees, and preparing and serving food for hundreds of Family Night church suppers throughout many decades.  Whenever food was involved, Rosie was there helping to prepare and serve it.
            In her younger days, Rosie spent several years painting and wallpapering for relatives and friends. She was also on a weekly bowling league.  In addition, she enjoyed detasseling corn on her sister and brother-in-law's farm.  Walking beans was a common summer family activity with Rosie often in the lead insisting that we get every weed.  Rosie loved flowers and plants and enjoyed giving and receiving them as gifts.  During the holidays, poinsettias and Easter lilies were often delivered to shut-in friends and neighbors.  When she took time to sit for a moment, she enjoyed jigsaw puzzles and word search puzzles, especially in her later years.  Rosie and Art belonged to a pinochle card club for many years and greatly enjoyed visiting friends and relatives.
            As a two-time cancer survivor, Rosie was so thankful for the extra years God granted her with her family and friends.  Her family witnessed her determination, persistence, and faith in God while she fought this disease.  She also claimed she got through many trials in life because she was a "tough German."
            Rosie and Art were proud parents of "six good kids", as she would often call them.  Rosie was a faithful attendee of hundreds of her grandkids' and great-grandkids' events and had a way of making each one of them feel special.  Some of Rosie's favorite sayings included "Isn't that nice", "Be good to yourself", (which came from her mother), "Oh, I don't know about that" as a response to a compliment given to her, and, of course, "I love you."  Up until the end, she often surprised us with her witty comments, even though she became frustrated by her inability to be able to help others in her later years.  Rosie's legacy of generosity, helping others, hard work, faithfulness, and unconditional love will live on forever in each one of her family members. Blessed be her memory.
            Grateful for having shared her life are her husband of 71 years, Art; children, Cindy Koch, Lynette (Doug Bos) Stensland, Doug (Mona) Stensland, Mark Stensland (Jesse Plaetz), Brian Stensland, and Lisa Larsen (Phil Jacobson); 17 grandchildren, Joshua Koch, Jennifer Koch, Leah (Abe Arshem) Stensland-Arshem, Tanner (Lacey) Larsen, Angela Koch, Andrea Snyders, Lance Schreurs, Nicholas (Evie) Koch, Jason (Paige) Stensland, Justin (Chelsea) Stensland, Daniel (Kim Busch) Stensland-Bos, Kyle Stensland (Beth Ann Faber), Matthew Stensland-Bos (Brie Merson), Luke Larsen, Erin Larsen, Nathan (Katie) Bos, and Micah Stensland-Bos (Amber Willliamson); 32 great-grandchildren; sister-in-law, Mickey Stensland; and many special nieces and nephews.
            She was preceded in death by her parents; siblings & spouses, Bena (Lowell) Harmon, Esther (Ernie) Twedt, Eddie Wiebe, Ozzie (Joyce) Wiebe, Leona (Manfred) Hill, Mary (Truman) Monen and Willie (Arlys) Wiebe; and son-in-law, Charlie Larsen.