Visitation: Visitation, with family present, will be Friday from 5:30 – 7:30 p.m. at Anderson Funeral Home in Canton. 
Service: Memorial services will begin at 11:00 a.m. Saturday, June 11, 2022 at Bethany Reformed Church in Canton, SD.
Livestream: Click here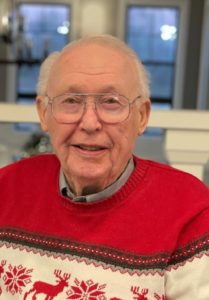 Memorial services will be held for Ronald L. Buysman, age 84, at 11:00 a.m. Saturday, June 11th, 2022 at Bethany Reformed Church, Canton, SD with Pastor Kevin Schneider officiating.  Interment will be at Pleasant View Cemetery in Little Rock, Iowa.  Visitation, with family present, will be Friday, June 10th from 5:30 – 7:30 p.m. at Anderson Funeral Home in Canton, SD.  Memorials may be directed to Bethany Reformed Church.
Ron passed away on June 6, 2022.  He was born on July 7, 1937, in Sibley, IA the son of Louis and Johanna (Heil) Buysman.  He attended country school at Wilson #4.  In the 7th grade Ron went to town to finish his education and graduated from Sibley High School in 1955.  Upon graduation he worked at the Osceola Creamery.  He served in the United States Air Force from 1956-1960. After returning from the Air Force, Ron again worked at the creamery.  In 1963 he was united in marriage to Marjorie Voss at the Salem Reformed Church in Little Rock, IA.  To this union, 4 children were born: Dawn, Vicki, Brenda, and Steven.  Also in 1963, they bought and ran a truck stop and café south of Sibley, IA.  In 1973, Ron and Marge transferred to Canton SD, to sell feed and vet supplies.  In 1975, he became a Culligan salesman, winning several awards and trips that he and Marge enjoyed together.  One of his favorite hobbies was making peanut brittle at Christmas time for friends and family and strangers he would meet.  His other hobbies included seeing and enjoying the grandkids and he loved a good joke.
At the age of 65, he retired from Culligan and began working with Marge at the Canton-Inwood Hospital and for the City of Canton, part-time, doing janitorial work for about 11 years.
He is survived by his wife of nearly 59 years, Marge; four children, Dawn (Mike) Mouw of Norwalk, IA, Vicki De Valois of Polk City, IA, Brenda (Art) Porth of Chicago, Il, and Steven (Crystal) Buysman of Sioux Falls, SD; twelve grandchildren, Mattie Raygor, Brianna (Cam) Hunwardson, Michael (Chrissy) Mouw, Allison (Scott) Holmer, Christian Porth, Taylor (Kaleb) Strothman, Ronni Sue Porth, Isaac (Kayla) De Valois, Grace De Valois, Josiah De Valois, Ava Buysman, and Clayton Buysman;  12 great-grandkids, Patrick Dougherty, Isabella Mouw, Henry Raygor, Vivian Raygor, Emma Holmer, Theodore Raygor, Mikey Mouw, Phoenix Hunwardson, Audun Strothman, Rhett Holmer, Dovah Hunwardson, and Ember Strothman; siblings, Alvin (Angie) Buysman of Ruthon, MN and Kenneth (Sue) Buysman of Sun City, AZ; sister-in-law, Jane (Larry) Buysman of Sibley, IA;  and many nieces, nephews, extended family and friends.
He was proceeded in death by his parents, Louis and Johanna; brother, Lawrence Buysman; and sister-in-law, Nancy Buysman.  www.andersonandsonsfh.com