Service: Due to Covid-19, a memorial service will be held in the Spring/Summer of 2021 for Bob and Syl Reimers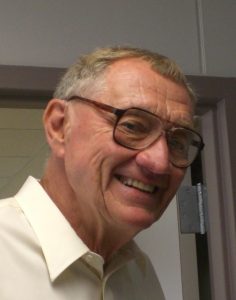 Robert Reimers passed away Sunday, November 15th at Good Samaritan Society Canton SD.
               Bob Reimers was a beloved husband, brother, father, grandfather, great grandfather and friend. People often referred to him as Big Bob, referring to his physical size. But he was big in many other ways. He was big in heart, generosity, intelligence, honesty, kindness, wit and wisdom.
         Bob knew something about almost everything. He was a master conversationalist and storyteller. Time spent with Bob was never wasted on small talk or complaints. A favorite time with Bob was morning conversations over coffee at the kitchen table. Tableside chats will be missed but never forgotten.
             Bob's education started in a one room schoolhouse outside of Inwood Iowa where he attended through eighth grade. He then went to school "in town" until accelerated advancement allowed him to graduate at age 16. Because of Bob's big-ness in intellect and athleticism, he received a full ride scholarship to play basketball at the University of Iowa under Bucky O'Connor, starting out with 21 credit hours focused on a major in Engineering. He was always proud to say that his freshman team went on to play Bill Russell with the University of San Francisco for the national championship.  The U of I experience, complete with a new car, an open checkbook, Delta Upsilon membership, and an invite to also play on the football team was a bit much for the small-town boy. Bob decided to head to greener pastures closer to home and he transferred to Morningside College where he was recognized as a "Big Man on Campus" and graduated with a major in English.
         Bob married Sylvia Pappas on June 6, 1955. As it was 4 days before his 21st birthday, his father had to sign permission for him to get married. Bob and Sylvia lived in Santa Moncia for 4 years, where Bob sold Wear Ever kitchen utensils with his friend Darold Puff. One successful sales tactic they discovered was making pancakes for the potential female customer. In 1960 Bob and Syl returned home and settled in with Bob's parents, Leone and Al Reimers, while they looked for a place to live. They were lucky to eventually buy a home at 602 East Lynn where they lived for 60 years.  Bob often joked that the selection of Canton was no random choice. After leaving work at the VA one day, Bob stopped and bought a quart of Grain Belt and started driving. When the beer was gone, he was in Canton. That seemed as good a place as any to live he said. He then added, with a smirk, if I would have bought a 12 ouncer we would be living in Harrisburg.
         Bob and Syl lived in their home in Canton for almost 60 years. They traveled to many places but enjoyed nowhere as well as Canton. The house and garden were an anchor for them both. It's hard to separate thoughts of Bob & Syl from memories of the house, the yard and the garden. They enjoyed life in Canton with friends and family. Summers were spent gardening and coaching Heidi's softball team, "Bob and Jack's Sluggers" (Bob and Jack Fox sponsored a team in the first girls' softball league in Canton). They also enjoyed time with many friends at Dickerson's resort at Lake Florida, Minnesota. And their fourth of July celebrations became notorious, a tradition carried on by their children.
        While Syl's family tree was largely unknown, Bob's was clear. Robert James Reimers was born June 10, 1935 to Elmer "Al" and Leone (Schemmel) Reimers in Minneapolis, MN. He was 4th generation German American. His great grandfather Jacob came to the states when he was a young man and settled in Alvord, IA. His grandpa Herman settled in Inwood. Bob's father Elmer, known as Al, farmed outside of Inwood Iowa. Bob and brother Dave grew up there. Bob's professional career was spent at the Sioux Falls VA Hospital where he worked for 37 years. How this came to be was also a story. Bob had signed a contract to start teaching high school at Rock Valley. Before starting the job, he was taking care of some business at the local post office. As he describes it, when he left the post office, he turned right instead of left to go to his car. On the right was an employment office. He stopped in where he struck up conversation. The staff person mentioned that he had just heard about a newly created position at the VA hospital, which was so new the description was written on a napkin from a dinner party he'd attended the night before. Bob decided to follow up, and the rest is history.
        Even though Bob spent 37 years in various administrative jobs at the Veteran's Administration in Sioux Falls, Bob's life was spent focused on volunteerism. Bob went from being the director of voluntary services at the VA to being a volunteer himself. He preferred the latter. The happiest workdays of his life were spent as a volunteer at the Outdoor Campus, teaching kids how to fish, snowshoe, identify wildlife and other outdoor activities. Bob spent a lot of time untangling fishing line. He once helped chaperone a group of disabled adults to Hawaii, and spent time chaperoning a group of Boy Scouts to the Boundary Waters. He often told a story of one of the boys getting an injury that required stitches. Bob set out with the boy to get help. Remarkably, on the way to find emergency transportation out, they met the only other people they had seen while in the wilderness. One of them happened to be a physician who was able to provide the care the boy needed, right there on the spot. Emergency evacuation averted.
         Teaching responsibility was important to Bob. Growing up, punctuality was enforced. The standing rule was one day grounded for each minute late, and it didn't matter if the clock at home was running fast. On family trips, arriving late at the airport was never a risk. A bigger risk was arriving at the airport before it opened. And manners were also strictly enforced. When Tom got a minus on his report card for "is courteous" in 6th grade, Bob learned that Tom had not held the door for the girls following him out to recess. Tom's lesson came in the form of Bob mandating that he hold the door open for all his classmates at recess for the rest of the year.
        Bob enjoyed spending time with friends whether it was sitting out on the deck, playing bridge, or visiting Cousin Amanda with his best friend Jake. The magnet of home and living in Canton was strong for Bob. He was offered many job offers in his career, all of them requiring a move. Once he had planted roots in Canton, he had no interest in uprooting his family. He loved his home, his town, his neighbors and friends. That was enough for Bob.
          But mostly, he was the rock of the family. He was steadfast in his love for family and friends always offering his time, love, kindness, resources and a guiding hand to anyone who wanted or needed it. He was flawlessly honest and trustworthy. You could count on Bob as reliably as you could count on the sun rising in the morning. He lived a life guided by his faith and values and did so with a level of integrity that is simply admirable. Bob touched many lives throughout his journey and we are all better because of it. He lived a life that offered all of us a model of how to live, love and give. And although he set the bar exceedingly high, it offers all of us something to reach for. As life moves forward and we find ourselves pondering some issue or concern, we will simply need to ask ourselves one question; "what would Bob do".
       Bob is survived by his children Tom (Kristi) Reimers and Heidi (Charles) Conley; grandchildren: Melissa Hasty, Courtney Herndon, Sarah Reimers and Laura (Jordan) Warnock; great-granddaughter Lilly Hasty; Brother: David (Ronda) Reimers and Niece Kim (Rich) Sola.  Preceding him in death: Wife, Syl Reimers.
        Memorials can be sent to the Outdoor Campus, Sioux Falls, SD. Due to Covid-19, a memorial service will be held in the Spring/Summer of 2021 for Bob and Syl Reimers. Details to follow.