Visitation: 6-8:00 p.m. Tuesday, Anderson Funeral Home
Service: Service of Remembrance- 7:30 p.m. Tuesday, June 16, 2015 at Anderson Funeral Home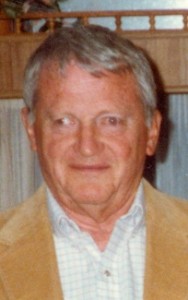 Canton.  Richard Eugene "Gene" Escher, age 98, passed away Thursday, June 11, 2015 in hospice care at Canton Good Samaritan Society.  Family will greet visitors Tuesday evening, June 16, 2015, from 6:00 to 8:00 p.m. at Anderson Funeral Home in Canton.  A service of remembrance will begin at 7:30 p.m.
    Gene was born November 26, 1916 in Illinois to Walter and Stella (Masters) Escher.  He attended Wentworth Military Academy and Junior College in Lexington, MO.  Gene graduated from Drake University in Des Moines, IA.  He served in the U.S. Coast Guard during WWII.
    Gene was united in marriage to Sally Fredrikson Asper on August 19, 1978.
    A resident of Sioux Falls since 1974, Gene worked in finance and retired as a vice president of Piper, Jaffrey, and Hopwood.  He and his wife moved to Canton in 1984.  In retirement, he enjoyed a daily round of golf and exercising at Dr. Swenson's gym.  Earlier in his life, Gene showed Arabian horses and was a longstanding member of the Arabian Horse Association.
    Grateful for having shared his life are: his wife, Sally; son, Tim (Aileen) Escher of CA; stepson, Richard (Kathy) Asper of WI; stepdaughters- Cheryl (Larry) Tessmer of ND, Louise (Jerry) Johnson of SD, and Nancy (Larry) Fust of ND; 8 grandchildren; and 15 great-grandchildren.