Service: Funeral services were held in New Mexico on Thursday, October 24, 2013.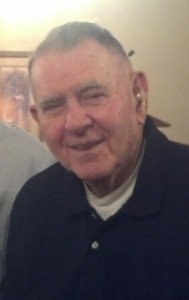 Richard was born to Wayne & Margaret Bechdol on February 11, 1926 in Walton, Indiana.  He was the oldest of six children.  During his early years, he resided with his grandparents, Ruby (Bryant) and  JW Wilson, on their farm in rural Indiana.  He always spoke fondly of those years, speaking of the many lessons learned and the work ethic he developed under his grandfather's watchful eye.
            Upon completing high school in Galveston, Ind. Richard entered military service as a paratrooper in the 11th Airborne Division.  He served in the Philippines, Okinawa and Japan.  He ended this tour of duty as a personal guard to General Douglas McArthur, witnessing many history making events.
            With a short period of civilian life, during which time he entered Indiana University and married Alma Leslie in Kokomo, Ind. in June of 1948.  This marriage resulted in the birth of Julia Ann 1950; Janet Sue 1952; and James Warren 1955.
             A short time later, he returned to serve his Country as a Master Sargent in the First Calvary Division during the Korean Conflict.  During this service he was injured and eventually lost 100% of his hearing.  This led to his medical retirement from the service in 1955.
            Military service completed, he returned to Indiana and worked in construction.  Because of the harsh winters and many "non working" months, he moved his family to Corrales, NM in 1961.  He continued in his profession and worked extensively in the early development of Rio Rancho.
            Richard married Norma Renfro in the mid 60's and they remained in the Albuquerque area until 1970.  They eventually settled in Canton, SD, where Richard finished his college obtaining a degree in Psychology.  He became an accomplished sculptor during this time using both wood and stone medium.
            Richard decided to return to NM in late summer 2013 to live with his daughter and family. He had high hopes of eventually being able to regain strength and helping with the daily chores of ranch life.  Richard was a devout Christian, a member of the American Legion and Masonic Lodge.
            He was preceded in death by his wife Norma, his parents, sister Mary Carver, brothers Paul Bechdol, and Sam Bechdol.  He is survived by his daughters Janet Porter Carrejo, Julia Griffith, and son James W. Bechdol, and seven grandchildren and 13 great grandchildren.
            Richard went to be with The Lord on October 21, 2013 and will be laid to rest in the Carrejo Family Cemetery, Apache Creek, NM.  Services were held in New Mexico on October 24, 2013.