Service: Graveside service- 3:30 p.m. Saturday, June 4, 2016 Lutheran Cemetery, north of Canton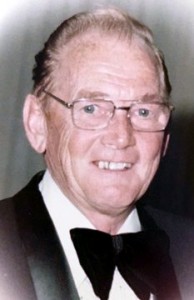 Ellenton, Fl.  Perry Juel, 91, formerly of Sioux Falls and Canton, passed away Friday, May 27, 2016 at his home in Ellenton.  A graveside service will be held at 3:30 p.m. Saturday, June 4, at the Lutheran Cemetery north of Canton.
        Perry was born December 10, 1924 in Lincoln County, one of 8 children, to Paul and Pearl (Wahl) Juel.  He attended school in Canton, graduating in 1943.  Perry served in the US Navy during WWII.  Following his discharge, he attended Chillicothe Business College in Chillicothe, MO.  He married Thelma Stadum June 4, 1950.  They lived in Sioux Falls until 1979, when they moved to Florida.  He was a partner with his brother-in-law at Stadum Construction in Sioux Falls for many years.
         Perry was a former member of First Lutheran Church, 55 year member of the Sioux Falls American Legion, life member of Sertoma International and past president of Sioux Falls Sertoma Club, charter member of Westward Ho Country Club, Sioux Falls Elks Club, Norwegian Singers Association, and member of the Norse Glee Club.
        Perry is survived by his wife of 66 years, Thelma; one son, Craig of Connecticut; 2 granddaughters, Christen and Caroline;  one great-grandson, Graham; and a host of nieces and nephews.  He was preceded in death by his parents, one son, Brian, and 7 brothers and sisters.