Visitation: Family will greet visitors at the church an hour prior to the service.
Service: Funeral service: 10:30 a.m. Saturday, January 20, at Canton United Methodist Church, 621 E 4th St, Canton, SD—receptions with family & friends following each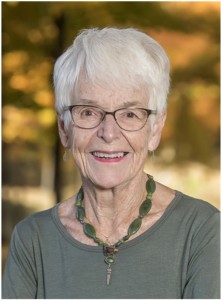 Patricia Close Rudolph—previously from Sioux Falls & Canton, SD—died at age 88 on December 31, 2017, in Maple Grove, MN.
Born July 25, 1929, to Clark & Irene (Dewey) Close—Pat graduated from SF Washington high school and Iowa State University. She married Blaine Rudolph on August 2, 1952, and "gloried in" a loving 64-year union.
Pat was preceded in death by her parents; her husband; her brother, Chauncey Close, & his wife, Phyllis Murphy; in-laws Godfrey & Henrietta Roberts; and her son Jimmy.
A natural homemaker and teacher, with a spirit for adventure, she strove to improve every community of which she was a part. Pat's children, grandchildren, and friends knew her as a loving mother, a fun grandmother, and kind friend.
During her wonderful, sometimes difficult, final years—a remarkable number of loved ones, who were blessed to have shared important moments with Pat, witnessed her grace as she persevered "one hug at a time."
Survived by her children, Dan (Jacque), Claudia, Kate (Mark), and Bill (Paula); her grandchildren, Aaron (Torrey), Kara (Will), Kristin (Andrew), Rachel (Andy), Kaylee (Alex), Todd (Juliana), Kirk, Martin, and Mitchell; great-grandchild Eli; nieces and nephews, Tom (Lori) & Chris (Ric Larson) Roberts and Denise, Sharon (Cheryl Mann) & Kelly (Andy Milbauer) Close, and great-nephew, Kai.
Funeral service:  Saturday, January 20, at 10:30 a.m. at Canton United Methodist Church, 621 E 4th St, Canton, SD. Family will greet vsitors at the church an hour prior to the service. In lieu of flowers, memorials may be given either to St. David's Center (Minnetonka, MN), Love INC (Canton, SD), or the charity of your choice