Visitation: There will be a visitation at the funeral home on Sunday, Nov. 27, 3 – 6 pm. The family will be present throughout the entire visitation
Service: The Funeral Service will be at Canton Lutheran Church, on Monday, November 28, at 10:30 am.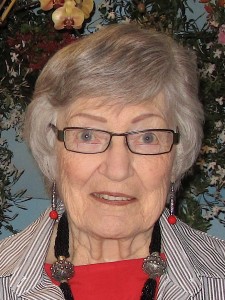 Opal Marcella (Knutson) Rikansrud was born on February 28, 1922 in Sioux Falls, SD.  She was adopted as an infant by Selma & Oscar Knutson of Canton SD, through Lutheran Social Services in Sioux Falls.  Her 3-year-old sister, who wanted a playmate, chose her.  The story goes that Opal was picked because she was the only one awake, with her big blue eyes shining brightly up at her sister.
Her mother, father, sister, husband, and son preceded Opal in death.  She is survived by her children: Denise (Mick) Hager, San Diego, CA; Daryle (Mary Ann), Gadsden, AL; and Marcia (Mark) Holman. Minneapolis, MN; 5 grandchildren; and 9 great grandchildren,
Opal grew up on a farm south of Canton, in Moe Parish.  Lands Lutheran was the family church, where she was baptized and confirmed.  Opal attended Jensvold School through the 8th grade.  She graduated from Augustana Academy, Canton, SD, June '39, before attending Nettleton College in Sioux Falls, SD.  She worked in Pierre, SD, as a private secretary for the SD House of Representatives during their 1940 session.  From there, she returned to Canton and was employed at the Farmer's State Bank.
She married Donald Leroy Rikansrud on August 16, 1942, at Canton Lutheran Church.  They lived on the Knutson family farm south of Canton. In 1948 they moved into Canton where Don and Opal owned and operated the Rikansrud Implement from 1948 – 1963.
They had 4 children: Denise, Daryle, Marcia, and Bruce.  Opal worked at the Sioux Valley News as Society Editor and in the office of Dr. Ray Bunkers.  In 1963, the family moved to Grinnell, Iowa.  In 1970, Don and Opal moved to Clear Lake, IA.  In 1975, they moved to Arizona.   In 2006, Opal moved to Minneapolis, MN, to be closer to home and family.
Throughout her lifetime, in addition to her various work opportunities, Opal: loved golf; was an avid reader, regarding her books as some of her greatest treasures; loved to listen to music, and dance in her younger years; enjoyed watching sports on TV and able to converse about names of players and positions they played; was a shark at cards; dabbled in stain-glass creations; loved to travel; and designed and created jewelry.
Opal died peacefully at Folkestone – Gables Care Center in Wayzata, MN on Saturday, 11/20/16.
Funeral arrangements will be handled by Anderson Funeral Home in Canton, SD.  .  The Funeral Service will be at Canton Lutheran Church, on Monday, 11/28, 10:30 am.  Graveside service will immediately follow the funeral service at Forest Hills Cemetery.  There will be a lunch served at Canton Lutheran Church following interment.  In lieu of flowers, Opal requested donations be given to: Canton Library, Canton Lutheran Church, or to a charity of the donor's choice in her memory.
Opal's family wishes to extend their deep appreciation for your participation today in this celebration of her long, rich, and blessed life.