Visitation: Visitation will be Monday from 2-8 p.m., family present 5-7 p.m, at Anderson Funeral Home in Canton, SD.
Service: Funeral services will begin at 3:00 p.m. Tuesday, March 1 at Canton United Methodist Church.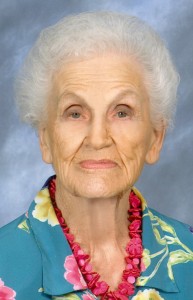 Canton.  Olive Margaret (Schultz) Edwards, 93 entered into eternal life on February 25, 2016.  Olive was born on April 2, 1922, at Estherville, IA, to Hobart and Margaret (Gombos) Schultz.  She was raised in Eastern Iowa, graduating from Tipton High School in 1939.
On June 19, 1945, Olive was united in marriage to John "Bud" Edwards in Montgomery, AL.  Because of Bud's military service, theirs was a courtship based on the U.S. mail that lasted 56 years until Bud died in 2002.  They returned to Canton permanently in the spring of 1947.
Olive's secretarial career encompassed service to the city of Tipton, the Lincoln County Extension office and the Lincoln County Soil Conservation.  Through the years she volunteered for 4-H, Cub Scouts, Meals on Wheels, RSVP, Good Samaritan, and her church.  Olive was a staunch supporter of our youth, and thoroughly enjoyed attending her grandchildren and great-grandchildren's activities.
Bud and Olive operated the Edwards Popcorn Stand in the Courthouse Square from 1963 – 2003.  One of her greatest joys was having kids bring their kids to enjoy her popcorn.  Olive loved to bake and was known for her caramel rolls and caramel corn, which she generously shared with all.  She was also an excellent seamstress.
Olive was an active member of the Canton Senior Citizen's Center and the Canton United Methodist Church.
Grateful for having shared her life are daughters: Terri Nolet and Kathy (Don) Munk; son, Jon (Paula) Edwards; grandchildren and great-grandchildren: Lezlie (Joe) Larsen, Kathy Jo Anderson- Karlie (Tye) VanderVorst, Alaina Hammer (Nathan Dick), and Merrick Anderson, Bill (Kirsten Backes) Eide- Ozzie Eide and Maddie Backus, Andrew Eide- Brodie Eide, Abigail Peterson- Kinley Carroll and Jacob Peterson and numerous nieces and nephews.
Going home before Olive were her husband, parents, son-in-law, Jim Nolet, two sisters/spouses- Ellen (Hank) Stille and Lucille (Don) Marion, and sister-in-law/ spouse- Bea (Virgil) Glenn.
She was our rock and her faith ran deep.  We joked the "Grandma has a direct line to God.  When she asks, He listens."
Please join us for a celebration of Olive's life on Tuesday, March 1, at 3:00 p.m. at the Canton United Methodist Church.  A private family burial will be held prior to the service.  Visitation will be Monday from 2 to 7:00 p.m. at Anderson Funeral Home in Canton with family present from 5 to 7:00 p.m.