Visitation: Visitation with family present will be on Tuesday from 6–8 pm at Anderson Funeral Home in Canton.
Service: Funeral services will be held at 3pm on Wednesday, Oct 12, 2011 at Redeemer Free Lutheran Church, Canton.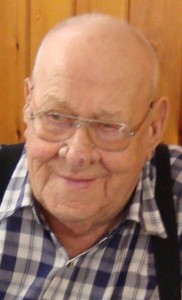 Olav (Ole) Hamran, 91, passed away on Sunday, October 09, 2011 at Sanford Canton-Inwood Hospital.
Ole was born in Hagebostad, Norway on August 16, 1920 to Oluf and Anna (Birkeland) Hamran.  In 1928, when he was 8 years old, he traveled by ship with his family to America.  They settled near Klondike, IA, and later moved to Inwood, IA.  Ole learned to speak English after he came to America. 
Ole was a talented motorcycle rider and owned 16 motorcycles in his lifetime.  There were many stories and even a picture showing a daring ride from Canton to Inwood while standing on the seat of his Harley.   He bragged about riding up the front steps of the old Canton High School and even laying it sideways in the ditch to avoid authorities. 
Ole was united in marriage to Dorothy Kidd on September 20, 1954 in Jackson, MN.  They made their home in Canton.
He worked various jobs including Western Construction, Larry's Radiator Shop, Oldsmobile Garage, Dan Cotton Chevy, and police officer for Inwood, IA.  In 1961, he started his own business west of Canton-Ole's Auto Clinic-which he operated until his retirement in 1989.  He was very inventive and even made equipment to drill several of his own water wells.
Ole enjoyed wood-working, gardening, and playing cards and checkers with family and friends. Most of all he enjoyed his moped rides to Laurie's Café for coffee.  Later on, he proceeded back to 4 wheels with his golf cart.  He was very proud of his grandchildren and cherished visiting with them.
Ole is survived by his wife of 57 years, Dorothy;  children Julie (Lane) Jervik, Hudson, SD; Diane (Troy) Balk, Sioux Falls, SD; Mark Hamran, Tea, SD; Paul (Jenny) Hamran, Canton, SD; grandchildren Chad Hamran, Nicole (Ben) Westra, Christopher Jervik, Alex Jervik, Jonah Hamran, Alexis Abbott, Brady Abbott, and Kaitlyn Abbott;  sister Asborg Hamran Inwood, IA; numerous relatives in Norway; lifelong friends Chuck and Betty Tanck and daughter Cathy Tanck, Sioux Falls, SD; and countless other friends and family.
He was preceded in death by his parents and sister Anna Maria Hamran.