Visitation: Visitation will begin at 1:00 p.m. prior to the service at the church.
Service: Her funeral service will be at 2:00 p.m. Saturday, March 18, at Lands Lutheran Church rural Hudson, SD.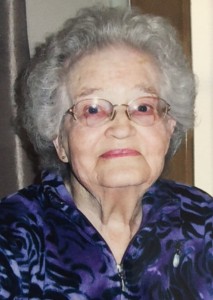 FARGO, N.D. – Nila Bernice Thorson, 94, formerly of Belle Fourche and Canton, S.D., died Sunday, March 12 in Elim Care Center.
Nila was born to Otto and Clara (Christopherson) Tysland in Canton on Oct. 29, 1922. The youngest of 10 children, Nila was baptized and confirmed in Canton Lutheran Church and graduated from Canton High School in 1940. She was active in high school and was an excellent musician. She treasured her experience in the clarinet quartet as an eighth grader when they won their division in the national high school band contest in Cleveland, Ohio. She also enjoyed playing tennis.
Nila married Norman Thorson of Canton in January 1942. She worked on their farm as a gardener, canner, baker and cook. Her delicious meals were highly appreciated by her family and the hired men. A member of Lands Lutheran Church, she was active in Ladies Aid.
In 1960, the family moved to Belle Fourche where Norman operated a trucking business. She served as the company's secretary while raising their three children.
Nila moved often to be with her children, starting with time in Rapid City. She was a constant and devoted helper to them and their busy families. She always took great joy in supporting her grandchildren in their school, sports and hobby activities. She attended countless football, basketball and volleyball games, cooked tons of meals, and did enormous amounts of laundry. When she moved to Bismarck in 1991, she came to love animals and shared in the caregiving of a constant menagerie of pets.
After moving back to Belle Fourche with her daughter and son-in-law from Bismarck in 1997, she found a favorite activity in taking shopping trips to Rapid City with her three young granddaughters. She loved stopping for Burger King onion rings and Dairy Queen ice cream. She was always willing to try new things. She was "game for anything," as her family would say. This included competing in family Nerf basketball tournaments, watching horse and dog shows, and attending car shows. She also enjoyed crocheting, crafting, quilting and sewing.
Nila always quietly maintained a competitive nature. She would win at the card game Hearts after saying that she didn't know how to play, and she never wanted to miss a bingo match against her Elim comrades.
Nila's sweet spirit and gentle nature will forever leave a mark on those she loved and leaves behind.
The family gives special thanks to the staff at Elim who so tirelessly and graciously cared for Nila as their own mother and grandmother.
Nila is survived by daughter Noreen (Clarence) Aadland, Fargo and son Steven (Tobi) Thorson, Belle Fourche; grandchildren Hope (Keith) Hanson, Fargo; Angela Thorson, Rapid City; Timothy (Sally) Aadland, Brainerd, Minn.; Ryan Thorson (Nikki Potter), Rapid City; Shea Thorson, Belle Fourche; Valerie Thorson, Rapid City; and Holly Thorson, Belle Fourche; great-grandchildren Jaxon, Ian, Grace, Will, Ella, Jorgen, Levi and Hailey; and sister-in-law Alice Evans, Williams, Iowa.
She was preceded in death by her parents; her six brothers and three sisters; husband Norman; son Ronald; and stillborn son David.
Visitation begins at 1:00 p.m., with service at 2:00 p.m., at Lands Lutheran Church, Hudson, S.D., Saturday, March 18, 2017, with Pastor Nate Hanson officiating. Interment will be at Lands Cemetery.