Service: Private family services will be held this week.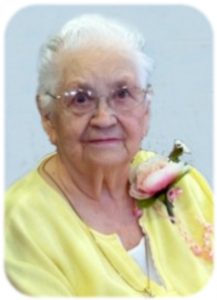 Nelva J. Boogerd, 88, passed away Saturday, September 5, 2020 at Ava's House in Sioux Falls, SD.
Nelva was born July 27, 1932 in Hull, Iowa to William and Nellie (Vermeer) Lokhorst. She attended Hull Christian School.
Nelva was united in marriage to Marvin Boogerd June 30, 1953 in Hull, IA. They moved to Canton in 1959. They lived in Sioux Falls for 3 years before moving back to Canton in 1990. Her husband died December 16, 2009. Nelva has been a resident of Canton Good Samaritan Center.
Nelva was a longtime member of Bethany Reformed Church in Canton. She provided child care for over 30 years and was a foster care provider for 10 years. She was also a cook and manager at Hiawatha Country Club in Canton. She enjoyed needlework, reading and doll collecting.
Nelva is survived by 3 children- Ronald (Sue) of Rock Rapids, IA, Pamela (James) Dierickx of Lowden, IA and Brenda (Matthew) Wills of Sidney, OH; 9 grandchildren; 4 great-grandchildren; one sister, Hattie Oldenkamp of Ripon, CA; and sister-in-law, Theodora Lokhorst. She was preceded in death by her husband, Marvin, parents, 3 sisters- Caroline, Gertrude, and Jennie, and 2 brothers- Edward and Peter.