Visitation: Family will greet visitors one hour prior to the service. 
Service: Funeral services will begin at 11:00 a.m. Thursday, October 5, 2023 at Canton Lutheran Church.
Livestream: Click here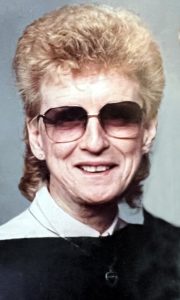 Marie "Teenie" Heeren, age 91, died Friday, September 29, 2023 surrounded by her family at Avera McKennan Hospital in Sioux Falls, SD.  Funeral services will begin at 11:00 a.m. Thursday, October 5, 2023 at Canton Lutheran Church.  Family will greet visitors one hour prior to the service.
            Marie "Teenie" Elyne (Volden) Heeren was born on December 25, 1931, to Thoralf Olson Volden and Florence Evangeline (Juel) Volden near Klondike. She grew up with her older brother Elmer and later welcomed brothers David and Paul. The family moved around farms in the Canton area before settling near Klondike, which became Teenie's lifelong home. She was baptized and confirmed at Canton Lutheran Church, studied at Hokenstad Country School, and graduated from Canton High School in 1950.
            Teenie had a deep affection for the outdoors and animals, bonding especially with her pet racoon and workhorses "Pete & Johnny." "Bitty coon" loved nothing more than to ride on her Indian motorcycle or the Oliver tractor. There was no animal that she could not tame or make a pet out of. Once in her care, they never lacked for food or attention. Her greatest love was for horses. She was especially fond of horseback riding with her friends Gloria & Lana through the Klondike hills or trail riding with the Saddle Club.
            On January 1, 1957, she married her best friend and the love of her life, Stanley Eugene Heeren at Canton Lutheran Church. They initially moved to Iowa Falls for Stan's job as a power lineman, but returned to the family farm due to her father Thoralf's health issues. The couple had a daughter, Linda, who inherited her mother's love for animals, especially horses.
            In 1977, Teenie started working at Hinky Dinky in Sioux Falls, staying through its various name changes until the store closed its doors in about 2005. She was the only original employee of Hinky Dinky, Prairie Market, Sunshine & Econofoods before it closed. Because of her outgoing personality, she decided to take a job as a cashier at HyVee, where she became a favorite amongst customers. In 1991, Teenie faced the sudden loss of her beloved husband, Stan. Despite the tragedy, she continued to work at HyVee, care for her many farm animals and look after her brother, Paul.
            Her grandchildren, Aliya Marie & Kellyn Daniel, were her greatest joy. Chasing Grandma's car up the driveway to the screams "Grandma's home, Grandma's home," relentlessly knocking on her door, because she couldn't get out of her car to unlock the front door fast enough, so they could get inside to spend time with Grandma. Soon, the smell of fresh popcorn filled the air, along with butterscotch pudding & cookies while watching Sponge Bob! As the kids aged, she loved watching videos from Aliya's cheerleading competitions and Kellyn's wrestling tournaments. Special memories were Grandma traveling to Council Bluffs to Aliya's cheer competition & going to Kellyn's wrestling tournaments. The kids had their own private cheering section.
            In 2012, a stroke changed her life forever, taking away the independence of being outside, riding her motorcycle & 4-wheeler, being out in the barn & the job she loved at HyVee. After her rehab stay at Avera McKennan Hospital, she moved in with Dan, Linda & her grandchildren, where she would live until her death. Our home will never be the same without her, but her stubbornness, faith, work ethic, honesty, and love will be the legacy we all cherish and carry forward to honor a well-lived life.
            Preceding her in death was her husband, Stanley, parents Thoralf & Florence Volden, brothers Elmer, David & Paul, sister-in-law Martha Volden, brothers-in-law Harold Heeren & Warren Heeren, sister-in-law Betty Hulst, nephew Mark Volden, nieces Peggy Volden & Lori Volden and Bruce's son Travis Volden.
            Grateful for having shared in her life: daughter Linda and husband Dan March, her grandchildren Aliya March & Kellyn (Ella) March, nephews Bruce (Rose) Volden & family, Perry Volden & family, nieces Tonya (Kent) Clark, Allyn (Jane) Volden & family, Amy (Mike) Leu & family, James (Sonia) Volden, along with many special extended family members & friends.   www.andersonandsonsfh.com