Service: Her Memorial Service will be held at 2:00 p.m. Friday, Oct. 19, at Redeemer Free Lutheran Church in Canton.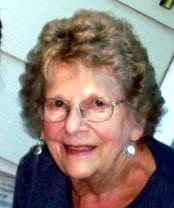 Marian Mae Truman, 87, passed away Tuesday, October 16, 2018 at Dougherty Hospice House. Nearing her 6-month cancer-free checkup, this sweet lady succumbed to a sudden stroke which occurred at home. Her Memorial Service will be held at 2:00 p.m. Friday, October 19, at Redeemer Free Lutheran Church in Canton, SD.
     Marian was born February 10, 1931, on a cold sunny day near Hamill, SD to Albert and Onalee (House) Larsen. With a midwife present, Marian was delivered at home. This was a time of no rain, no money, few crops, many grasshoppers and lots of love. Marian always said about her childhood, "I didn't ever feel poor, as everyone else was in the same boat. My grade school years were spent walking to Lingren School. Brother Dean and I would stop at Aunt Annie's to warm up. As we got older we often rode horses. High school was split between Winner and Chamberlain."
      Marian was married January 1, 1948. This union produced five children: Don (Brenda) Cleland, Edmond, OK; Corene (Alan) Chapman, Aberdeen, SD; Karen (Don) Thompson, Great Falls, MT; Nancy (Donn) DeBoer, Chamberlain, SD and Calvin Cleland, Elgin, OK.
     Marian married Elwood "Woody" Truman November 15, 1974. Marian's family increased by four step-children: Bob (Renae) Truman, Rapid City, SD; Debbie (Larry) Muller, Beresford, SD; Jim Truman, (deceased) and Bill (Suze) Truman, Harrisburg, SD.
      Marian and Woody enjoyed living on an acreage near Newton Hills State Park. This was a beautiful place for 19 grandchildren and 30 great-grandchildren to gather and just hang out.
      Though Marian worked briefly, being a wife and mother was her joy in life. You wouldn't find her far from church, her kitchen, her gardens or her cat, Sox.
     Marian was preceded in death by her parents, her brother Dean Larsen, one great grandson, Espyn DeBoer, two daughters-in-law, Debi Cleland and Debbie Truman, and step-son, Jim Truman. Grateful for sharing her life are her beloved husband Woody; her children; her grandchildren and great-grandchildren; many friends and neighbors; sisters, Alta Cable and Mavis Hansen, and numerous nieces and nephews.