Visitation: Visitation will be Monday from 2-8 p.m., with family present from 5-7 p.m., at Canton Lutheran Church.
Service: Funeral services will begin at 10:30 a.m. Tuesday, July 10 at Canton Lutheran Church.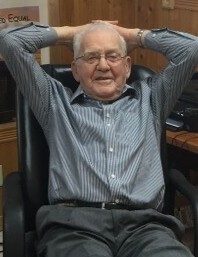 "You know?" These two simple words started millions of conversations between Manfred and his family, friends and often times complete strangers.  His effortless start to an exchange lead to him finding out about your life, your family and possibly if you were somehow related to him. Manfred's innate "gift of gab" made him an instant friend to all he met.
Manfred Eugene Hill was born February 13th, 1924 on the Hill family homestead to Charles and Nora Hill where he lived with his 2 brothers and 2 sisters. He graduated from Canton High School in 1942 and set off to explore. He spread his wings by hopping on a train to Milwaukee with his brother Charles and worked as a cook. Their trip ended abruptly when they had to get back to South Dakota because the war broke out.  Manfred then went to work in Sioux Falls to help build the Air Force Base. South Dakota provided so much for Manfred, corn, dirt & eventually a beautiful redhead. Once again, his articulation paid in dividends when he artfully negotiated buying a coat for a spunky little waitress; his future wife, Leona Wiebe. They were married on May 6th, 1945 and went on to have 5 beautiful children. They created a legacy of love, countless memories, so much laughter and 72 years of marriage. The original power couple farmed, raised seed corn and later in life became part owners of First American Bank in Canton.
Dapper through all the decades humble pie became his favorite. When told he was looking good, (which was often) Manfred's eyes would smile and his tag line was simply "never been a problem."
Being a proud Norwegian, Manfred served as the very first president of the King Olav chapter, Sons of Norway in Canton. Anyone who met him knew of his Norwegian heritage and probably were able to trace their own through his vast knowledge and connections. Although he only visited Norway nine times, you would have guessed he was raised there.
Not only could Manfred talk his way through most anything, he could fix almost anything as well. He didn't have formal training, but he never needed that, just time and his little red tool box. He was always ready to help a neighbor on the farm, teach his family countless lessons and of course sit down for the always important coffee time at the café. If you ever took Manfred anywhere, you just automatically added in 40 extra minutes to wait for him to talk to everyone. Manfred spent his life doing what he loved, visiting with all he encountered, working the land, and fixing all that he could, from motors to minds. Growing his multi-generational farm was an accomplishment he cherished and the legacy his family has carried on in continuing this feat made him swell with pride. He was known to say, "Work hard and the rest will come easy". Manfred was a true testament to this.
Manfred was survived by his adoring children, Paulette Vetos (Stan), Richard (Linda), Randy Hill, Karla Hill, Carla Bass (Tom), & Renee Johnson, 15 cherished grandchildren, 40 great grandchildren & 2 great-great grandchildren and his sibling Lyle Hill.
He was preceded in death by his treasured wife Leona, his parents Charles & Nora Hill, and his siblings & spouses, Charlotte & Ezra Petterson, Irma & Eldon Lyso, & Charles & Gladys Hill, Kay Hill
Manfred passed away on the Fourth of July, in true fashion to the firecracker he was. What a sight it must have been to have seen the smile on his face, the one that started with the twinkle in his eyes, as he reunited with his beautiful sparkler of a bride.
Take a lesson from this one of kind, wise soul and release your inner Manfred and be an instant friend to all you meet-"it's never been a problem!"
Manfred's funeral service will be at 10:30 a.m. Tuesday, July 10, at Canton Lutheran Church, with burial at the Lutheran Cemetery north of Canton.  Visitation will be Monday from 2 to 8:00 p.m. at Canton Lutheran Church.  Family will greet visitors from 5 to 7:00 p.m.