Visitation: Family will greet visitors one our prior to the service.
Service: Funeral services will begin at 2:00 p.m., Wednesday, July 17 at Canton Lutheran Church.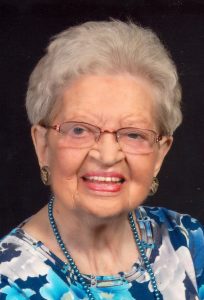 Maevis Roe Hales, 102, died Thursday, July 11, 2019, at Good Samaritan Society in Canton, SD. Funeral services will begin at 2:00 p.m. Wednesday, July 17 at Canton Lutheran Church.  Family will greet visitors one hour prior to the service.
     Maevis Norine Roe was born July 5, 1917, on her family farm in Canton, SD. She was the oldest daughter of Arthur and Palma (Monrad) Roe, descendants of Norwegian pioneers who settled in the Canton area during the 1860s. She attended Canton Public Schools and was a life-long resident of the community. After living 23 years on the farm, Maevis married Robert Bancroft Hales on September 28, 1940. She and Bob lived in the Canton area, and they enjoyed camping, riding with the Canton Saddle Club, and attending radio-technology conferences. When Bob passed away in 1966, Maevis returned to the family farm to care for her mother, Palma, who lived to be almost 104. After her mother died, Maevis moved into the newly renovated Augustana Academy Apartments and was one of their proud inaugural residents. She lived there until her health required a move to the Good Samaritan Society.  Maevis was a life-long member of Canton Lutheran Church and an active church volunteer for most of her life.
     Maevis had a quick recall of family genealogy and events, serving as the keeper of family history and photos. She could delight listeners with stories of her younger years, as well as many pioneer tales she had heard from her parents and grandparents about life on the prairie. As the eldest sibling, she worked alongside her father and mother for many years raising hogs, sheep, mules, chickens, and siblings,  becoming an excellent cook, baker, gardener, and seamstress. Her family barn was built the same year she was born, and she was extremely proud that it has been restored as a successful event center known as The Canton Barn. Maevis enjoyed social gatherings, and she was an avid bingo, scrabble, and card game expert her entire life.
     She is survived by her sister-in-law Annette (Ross) Roe; eleven nieces and nephews: Thomas Roe, Jane (Roe) Cooper, Mary (Roe) Praytor, Margaret (Roe) Sik, Andrew Roe, Katey (Roe) Lawrence, Timothy Roe, Stephen Roe, James Roe, Lori (Roe) Bouquet, and Bradford Roe; many great and great-great nieces and nephews; and a host of cousins and friends.  She was preceded in death by her parents, husband, and siblings: Edelyn Kudrna, Evvard Roe, Arlyn Roe, and Ross Roe. The family wishes to especially acknowledge Shirley Temple for her dedicated years of care and friendship with Maevis, Pastor Tim Thies for his guidance and support, and the staff at Good Samaritan Society-Canton for their compassionate care.
    Memorials in lieu of flowers may be directed in Maevis' name to Canton Lutheran Church Window Fund.