Service: Services will be held at a later date.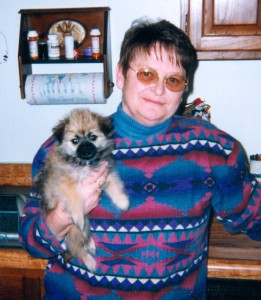 Hudson, SD- Luella Mae Olson, age 72, died unexpectedly on Saturday, April 9, 2016 in Doon, IA. Services will be held at a later date.
                Luella was born on April 13, 1943 in Canton, SD to James and Eva (Watters) Teeslink.  She married Blaine Olson on February 3, 1960 in Canton, SD.  The couple lived in Belvidere, IL before moving to Hudson, SD in 1999.
                Luella is survived by her sons, Robert (Cassie) Olson, Doon, IA and Brad Olson, Hudson, SD; daughters, Penny Surma, Hudson, SD and Shawn Stewart, Doon, IA; brothers, Danny Teeslink, Sioux Falls, SD and Kevin Teeslink, Simpsonville, SC; sister, Shirley Detmer, Minneapolis, MN; 10 grandchildren; 10 great-grandchildren; along with many other relatives and friends.  She was preceded in death by her parents, husband, son Billy,  grandson J.J., and many pet dogs.