Visitation: Visitation will be from 3-8 p.m., with family present from 5-8 p.m. at Anderson - Jones- Corcoran Funeral Chapel in Harrisburg, SD. A prayer service will begin at 7:00 p.m.
Service: 1:00 p.m. Saturday, February 25, 2012 at Anderson-Jones-Corcoran, Harrisburg, SD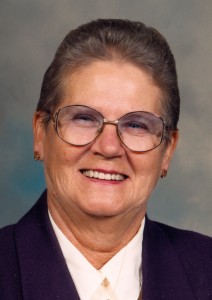 LUCILLE ANN (BANEY) JUHNKE WAS BORN TO ARTHUR AND ANNA BANEY ON OCTOBER 27, 1934 IN OLIVET, (HUTCHINSON COUNTY) SD.  SHE PASSED AWAY AT 7:07 AM ON TUESDAY, FEBRUARY 21, 2012.
            SHE IS SURVIVED BY HER HUSBAND RAYMOND SR., SIOUX FALLS; THREE SONS-  RAYMOND JUHNKE  JR, ABERDEEN SD,  RICK JUHNKE  (GWEN),  LAS VEGAS, NV,  AND GARY JUHNKE (LEANNE),  HARRISBURG, SD;  ONE DAUGHTER- ROBIN (GREGG) THOMPSON, HARRISBURG, SD; 15 GRANDCHILDREN;  21 GREAT-GRANDCHILDREN; ONE GREAT-GREAT-GRANDCHILD, TWO SISTERS- MARRIETTE  SCHULTZ , EMERY, SD AND LOUISE  BRACHA, LEWISTON, MT; ONE SON-IN-LAW, GREG KOCH, SIOUX FALLS, SD; AND MANY NIECES,NEPHEWS, AND FRIENDS.
            SHE WAS PRECEDED IN DEATH BY HER DAUGHTER CAROL (JUHNKE) KOCH, HARRISBURG, SD; HER PARENTS, ARTHUR AND ANNA; TWO SISTERS, LORRIANE  HARTMANN, SIOUX FALLS, SD AND MARGARET  PROCTOR, ALBUQUERQUE, NM;  ONE BROTHER,  KENNETH  (BUD) BANEY, IRON RIDGE, WI; AND ONE GREAT- GRAND DAUGHTER,  GABRIELLE BOHL, GARRETSON,SD
             SHE WAS MARRIED ON JULY 7TH, 1954 IN LUVERNE, MN. SHE LIVED WITH HER HUSBAND AND CHILDREN WHEREEVER RAY'S JOB TOOK THEM.   LUCILLE INSURED THAT HER FAMILY WAS ALWAYS TOGETHER.
            SHE HAD A PASSION FOR CAMPING, FISHING, GET TOGETHERS, SCAT (31), AND WAS A GREAT COOK (BUT DON'T ASK HOW SHE MADE IT).   CANNING WAS SOMETHING SHE DID EVERY YEAR.   HER JAMS AND JELLIES WERE TREASURED BY ALL THOSE WHO RECEIVED THEM.
 CHRISTMAS WAS HER FAVORITE TIME OF THE YEAR.  SHE LOVED TO JUST SEE THE KIDS FACES AND ALWAYS HAD TO HAVE A GIFT FOR THEM ALL. A DAY AFTER SHE WAS RELEASED FROM THE HOSPITAL WAS SUPPOSE TO BE THE FAMILY CHRISTMAS PARTY ON THE 7TH OF JANUARY 2012.  SHE SAID THAT CHRISTMAS FOR THE KIDS WILL HAPPEN AND YES IT DID.