Service: A memorial service will be held at 11:00 a.m., Saturday, JUNE 9, at Canton Lutheran Church in Canton.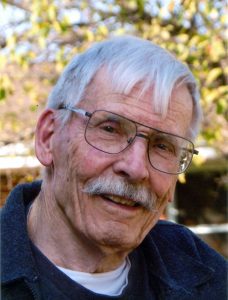 Lowell Emery Larson, 96, died on Wednesday, May 23 at Canton Good Samaritan Center. A memorial service will be held at 11:00 a.m., Saturday, June 9, at Canton Lutheran Church in Canton.
Lowell was born September 8, 1921, at Sioux Falls, SD to Arthur and Johanna (Eneboe) Larson. He grew up in Hudson, SD. After graduating from Hudson High School in 1938, he enrolled at Augustana College in Sioux Falls. In the spring of 1942 he graduated with a B.A. degree in sociology and became an instructor at the Sioux Falls Air Base where he spent two years teaching electrical fundamentals for the radio school.
In 1944 he was drafted and served for two years in the U.S. Army Air Force and spent one year in the Philippine Islands providing radar control for landing aircraft. He was discharged in May of 1946 with the rank of corporal.
After returning to civilian life, he spent a year at Sloan, Iowa, serving as principal and teacher of mathematics and history. In the summer of 1947 he married Amy Anabel Twedt of Hudson, SD and that fall began a 24-year career at Augustana Academy in Canton, starting initially as the assistant business manager. Two years later he was promoted to business manager in addition to teaching math and business courses. Twice during those 24 years he was called on to serve briefly as president of the Academy.
Lowell Larson returned to  his alma mater Augustana College in the fall of 1971 as the assistant controller. In 1973 he was promoted to controller and was in charge of the accounting system and financial records of the college. He spent 18 years in the Augustana College Business Office until his retirement in 1989. Among his professional accomplishments, Lowell's MBA thesis on an accounting system for churches was published in the Journal of Accountancy. He was recognized by the Division for College and University Services of the former American Lutheran Church for his distinguished service to both Augustana Academy and Augustana College.
Lowell's education included graduate studies at the University of South Dakota, University of Nebraska, University of Minnesota, and the University of Washington (M.B.A., 1955).
A variety of organizations and boards benefited from Lowell's expertise and volunteer efforts. He served as treasurer of the South Dakota Synod of the ELCA (as well as the formerly South Dakota District of the ALC), the South Dakota ELCA Synod Council,and M-2 Prison Visitation Program. He was a member of the Luther Manor board in Sioux Falls and the Full Gospel Businessmen's Group. Lowell and his family were members of Canton Lutheran Church for over 70 years, where he served as president of the congregation, member of the Board of Education and Building Committee, and taught Sunday School. Lowell was a member of the Canton Chamber of Commerce and a Life Member of the South Dakota Education Association.
His hobbies included gardening, skiing, running, camping, and traveling. His travels took him to the Philippines, Australia, Canada, Mexico, Europe (including England, Norway, Switzerland and Russia) as well as many parts of the United States. Lowell and Anabel made several short-term missions trips, teaching vacation Bible school in Russia and doing hurricane relief work in the Caribbean. He also enjoyed winter skiing and summer hiking. He climbed Longs Peak in Colorado (14,250 foot elevation) and hiked to the bottom of the Grand Canyon twice. He also placed First in the South Dakota Senior Games (ages 80-84).
Lowell is survived by his four children, Faith Louis of Omaha, Nebraska; Lois Adrian (Bart) of Ketchum, Idaho; Lafe (Denise) of Austin, Texas; and Beth Sanborn (Keith) of Birch Bay, Washington; 11 grandchildren; 7 great grandchildren; 3 brothers, Stanley, David, and Glenn; and numerous nieces and nephews.  He was preceded in death by his wife, parents, brother James Allen, and son-in-law Walter Louis.
In lieu of flowers, memorials may be directed to Canton Lutheran Church, Augustana University, the Augustana Academy Endowed Scholarship at Augustana University, or Lutheran World Relief.