Service: Visitation services, with family in attendance, will be Friday, March 9th, 2018, from 1-6pm, at Anderson Funeral Home in Canton, SD.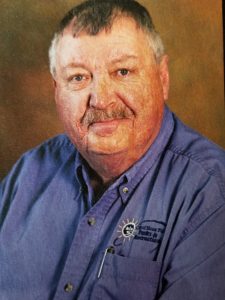 Loren Harvey Beard was born February 11, 1952 in Redfield, SD.  Loren was the second child to M. Harvey Beard and Aletha M. (Nelson) Beard. Loren died March 4, 2018 at Sanford Canton Inwood Medical Center due to complications from a brief battle with brain cancer.
                Loren graduated from Tulare High School in 1970. He attended South Dakota State University majoring in Parks and Recreation Management. He graduated in 1974.  Loren managed many SD state parks. He was especially proud to have been the first park manager at Snake Creek and Platte Creek Recreation Area in Platte, SD. He enjoyed working with his crews at Newton Hills State Park. He spent eight years at Newton Hills and he considered his crew to be family.  He worked with Maude and Mary Adams to create the Adam's Nature Area. Loren retired from the State of SD in 1995. He then started a new career with the City of Sioux Falls Parks and Recreation Department.  He managed many of Sioux Falls' City Parks. He was the founder of the Lighting of the Falls at Falls Park. Loren retired from the City of Sioux Falls March 2016.
                Loren married his sister's best friend, Suzanne Louise Zahn on May 11, 1974. They raised two daughters Alta Shaleen (Beard) Allen and Brodie Lee (Beard) Sorlie.
                Loren is survived by his daughters: Shaleen Allen of Alcester and Brodie (Jon) Sorlie of Hudson; his four grandchildren: Cheyenne Sorlie, Corbin Sorlie, Brinlee Allen and Declan Allen; his sister: Sandra (Jeff) Wagner of Redfield and his brother: Brian (Cindy) Beard of Aberdeen, sisters-in-law: Brigitta (Dale) Diede of Mission Hill and Jane (Cliff) Jensen of Lockport, NY; his nieces and nephews: Tami Johnson, Nick (Steph) Diede, Gentry (Tiffany) Jensen, Dru (Charlene) Jensen, Amber (Steve Spade) Wagner, Jamie (Kelly) Nannenga, Kayla (Ryan Fischer) Beard, Shzahni Jensen and many great nieces/nephews and great-great nieces/nephews.
                Loren and Suzanne did everything together, but Loren was known, by his family, to be a late arrival. He kept Suzanne waiting 32 days before he joined her in Heaven. Loren is also, preceded in death by his mother, father and grandparents.
                Loren was creative, gregarious, outgoing and friendly. Loren excelled at customer service which was paramount to his careers.  However, he could and would talk to anyone and always left a lasting impression on each person he met.  He loved his family. He enjoyed creating beautiful flower pots during the summer for his wife, decorating the outside of his house for Christmas. He never settled for ordinary when he could tweak and redesign anything to make it better such as taking tomato cages and turning them into beautifully lit Christmas trees. He enjoyed a good brandy and cigarette at the end of the day while listening to the Beetles, Eric Clapton, and James Taylor on his handcrafted stereo in his garage.
                When his first grandchild was born, he became Gumpa and he wore his name like a badge of honor. Gumpa loved taking his grandkids to movies, even the princess movies! He was a huge Disney fan and while he was able to take his family to Disneyland, he would have love to have taken his grandchildren.
                Loren was a food enthusiast!  He loved creating dishes and he would expand on them and make them impossibly better. Ribs and Rice, Ratatouille, Biscuits and Gravy, and Mac and Cheese were some of his grandkids favorites and he made them as often as he possible.
Loren and Suzanne shared their lives with a plethora of pets and shed many tears for everyone that crossed the Rainbow Bridge. He leaves behind his dogs, Abby and Boomer and his cats, Hannah and Magee. Abby was able to visit him in the hospital, which allowed them both to find peace.
Pallbearers: Dale Diede, Jeff Wagner, Brian Beard, Cliff Jensen, Jon Sorlie, Nick Diede, Gentry Jensen, Dru Jensen, Corbin Sorlie, and Declan Allen.
                Honorary Pallbearers: His co-workers from the State of South Dakota and the City of Sioux Falls.
Visitation services, with family in attendance, will be March 9th, 2018, from 1-6pm, at Anderson Funeral Home in Canton, SD.