Visitation: Visitation will be from 5 to 7:00 p.m. Thursday, Jan. 11, at Anderson Funeral Home in Canton.
Service: Her memorial service will begin at 10:30 a.m. Friday, Jan. 12, at Asbury United Methodist Church in Sioux Falls.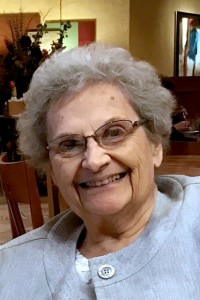 Lois Nelson, 89, of Sioux Falls, died Monday, January 8 at Good Samaritan Luther Manor.
Lois Irene Kauffman was born December 26, 1928 in Canton, SD to Irvin and Josephine (Keever) Kauffman. She graduated from Canton High School in 1946 and attended Presentation School of Nursing graduating in 1949. She married Donald M. Nelson on June 3, 1951. The couple farmed near Canton. Over her 30-year nursing career, Lois worked at McKennan Hospital in Sioux Falls, Canton-Inwood Memorial Hospital, Physicians Medical Clinic in Canton and served as director of nursing at Canton Good Samaritan Center. After her retirement from nursing, she served as a salesperson at Amundson's Dry Goods and as secretary at the Canton United Methodist Church. After Don's retirement from farming in 1998, the couple made their home in Sioux Falls. She moved to Good Samaritan Luther Manor in November 2017.
Lois was a life-long member of the United Methodist Church, both in Canton and at Asbury United Methodist Church in Sioux Falls.
A loving wife and mother, Lois is survived by her husband Donald and two children, Jeffrey and wife Cynthia and Douglas and wife Kathy, all of Sioux Falls. She was a beloved grandmother to Mathew Nelson and wife Sara, Anna Suckow and husband Brian, Peter Nelson and wife Laurie and Rachel Junker and husband Josh along with great grandchildren Mara, Austine, Nora, Elsie and Theodore. She is also survived by one sister Florence Schaal of Rancho Palos Verdes, CA. She is preceded in death by her parents and two sisters Thelma Sullestad and Marie Nannestad.
Visitation, with family present, will be Thursday, January 11 from 5:00-7:00 p.m. at Anderson Funeral Home in Canton. The memorial service will be held on Friday, January 12 at 10:30 a.m. at Asbury United Methodist Church in Sioux Falls.
In lieu of flowers, the family requests that memorials be directed to the Avera Prairie Center or Asbury United Methodist Church. Condolences may be sent to Don at Good Samaritan Luther Manor, 1500 West 28th #109, Sioux Falls, SD 57105.