Service: Mass of Christian burial will be celebrated by the family at The Church of St. Mary, Larchwood, Iowa, with burial at Larchwood Cemetery.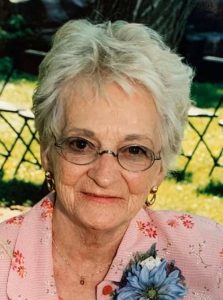 Leonella Marie (Lenny) Griffith (neVan Ash) died at the age of 93 on November 19, 2019.
      Lenny was born on January 23, 1926 in Larchwood, Iowa, daughter of Sophie (Friessen) and Henry Van Ash.  She attended and graduated from St. Mary's Catholic School.  After graduation she moved to Sioux Falls, SD and worked for an optometrist. She married Robert Griffith, and raised nine children.
     Lenny worked the graveyard shift at Otis Radio. She was a secretary at the food stamp office in Canton until the family moved to Sioux Falls. She then transferred to the Sioux Falls office. Lenny retired as the supervisor after working for the state for 25 years. She also worked for Murphy's Tax Service, H&R Block, and Country Apple Orchard. She was loved and respected by her coworkers. Lenny had an excellent work ethic and taught her children that working hard was a good thing.
       Lenny was a member of St. Chrysostom Catholic Church in Canton, SD, St. Mary's Catholic Church in Sioux Falls, SD and the last years of her life St. Dominic's Catholic Church in Canton, SD.  Lenny's strong faith guided her throughout her life.
      Lenny had many hobbies that she was good at and enjoyed doing. Dancing – she loved to dance and could cut a mean rug. Golf – she didn't learn to play until later in life, but she was a quick learner. She was steady down the middle and excellent around the green. Gardening – the bouquets she made were exceptional. If you were lucky enough to receive one from her, you'd be amazed at how talented she was and thankful for such a beautiful gift given with such love. Playing cards – she loved to play cards but she especially loved playing cribbage with any one of her five sons.  This was cherished time they enjoyed together.  Anyone who ever played cards with Lenny, knew she played to win. She loved to win at everything! Her grandkids and great-grandkids new Grandma Lenny never just let you win. You had to earn it and learned that losing was okay.  Spending time with her grandchildren was one of her great joys in life. She always had a grandchild or a great-grandchild on her lap. They all shared special moments with her and they knew she love them with all her heart. Lenny's brown popcorn was always available and out on the counter.  No matter if you made it exactly as she did, no one could emulate that most satisfying of snacks. It was hers alone and she made it with love, and with a good amount of salt.
      Lenny always showed her children unconditional love. The values her nine children aspire to follow, are there because of what they learned from her. Their success and expressing their values, this kindness, this compassion, patience, and gentleness is born of her teaching and her grace.
      Lenny is among those of whom we must say we live our lives better because of her. And perhaps we can remember to celebrate this day each year for the blessing of her in our lives. She was greatly loved and will be missed by many.
     Grateful for having shared her life are her nine children; Nicholas Griffith, Richfield, MN, Linda Handy, Tea, SD, Jim Griffith, Yankton, SD, Ginger (Dave) Gard, Canton, SD, Deborah (Dave) Sehr, Plankington, SD, Richard Griffith, Sioux Falls, SD, John Griffith, Sioux Falls, SD, Brian (Karen) Griffith, Rapid City, SD, Jacq Johns, Sioux Falls, SD; 19 grandchildren, 25 great-grandchildren, 2 great-great-grandchildren; 3 siblings: Betty (Joe) Allen, Gordon (Lois) Van Ash, and Beverly (Lyall) Spargo; sister-in-law Marilyn Van Ash.  Preceded in death by her parents, Henry and Sophie Van Ash, brothers Cletus and Alfred, and former husband, Robert E. Griffith.  Mass of Christian burial will be celebrated by the family at The Church of St. Mary, Larchwood, Iowa, with burial at Larchwood Cemetery.
                We can all hear Lenny saying, "if ya ain't Dutch, ya ain't much!"