Service: Her memorial service will be at 11:00 a.m. Tuesday, April 26, at First Reformed Church in Sioux Falls.
LaVern Carol Kuper, 81, went with the angels Friday, April 22, 2016 at Avera Dougherty Hospice surrounded by family and love.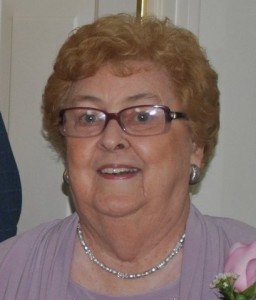 LaVern was born September 9, 1934 on a farm south of Fairview, SD, to Andy and Ina (Crawford) Helgeland.  She attended country school through the 5th grade and was excited to "move to town" and finish her education in Canton.
LaVern was united in marriage to Al Kuper April 25, 1954 at Canton Lutheran Church.  They made their home in Sioux Falls all their married life.  LaVern worked at Dornberger Insurance and Crum and Forester Insurance in the early years.  She spent most of her life working alongside her husband, Al, in his many business ventures.  They purchased Perkins in 1968 and LaVern was instrumental in the restaurant remodels and a solid supporter of Al's ideas.  She and Al spent their winters in Arizona since 1984.  They also spent much time traveling in their motorhome visiting 48 states.  She enjoyed reading, mahjong and never passed up an opportunity to do a little shopping.
LaVern is survived by her husband of almost 62 years, Al; daughter, Debra (Dar) Yeager, Sioux Falls; son Steve (Rebecca) Kuper, Sioux Falls; 3 grandchildren, Cory, Ross, and Alan McMillen; 3 great-grandchildren, Kuper, Lilly, and Marsha; one step-grandson, Caleb; a brother, Lloyd Helgeland, Sioux Falls; and sister-in-law, Kathy Kuper, Sioux Falls.
Charities were dear to LaVern's heart.  Memorials may be directed to The Children's Inn or your favorite charity.