Service:   Graveside service for family only were held at the Grand Valley Cemetery of Canton, South Dakota.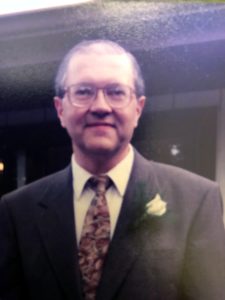 K-Lynn Paul, 84, died Friday, November 26, 2021 in Sioux Falls, SD of pancreatic cancer.  K-Lynn was born June 14, 1937, in Fergus Falls, Minnesota to Lynn and Lettie (Ririe) Paul.  After graduating from Fergus Falls High School in 1955, he attended Brigham Young University in Provo, Utah and served a mission for the Church of Jesus Christ of Latter-day Saints in the Pacific Northwest.  Returning to BYU he graduated in 1963 and then attended the University of Minnesota Medical School graduating in 1967.  After completing specialty training in psychiatry at the Kansas University Medical School he served in the U.S. Army Medical Corp. at the rank of Major.  Following his military experience he moved to Oklahoma City, Oklahoma, where he worked at the Veterans Administration Hospital and was on the faculty of the University of Oklahoma Medical School.  Moving to South Dakota in 1986 he became the first residency training director in psychiatry for the University of South Dakota School of Medicine, a position he held for 18 and a half years until his retirement in 2005. He also worked at Southeastern Behavioral Health Center and Avera McKennan Hospital.
          K-Lynn married Carla Blake in 1965 and they had six children, Richard (Maria) Paul, William (Rebecca) Paul, Robert (Jennifer) Paul, John (Sarah) Paul, Kathryn Starling and Eileen (Richard) Wingfield.  Carla preceded K-Lynn in death in 1994.
          K-Lynn married Karen Knock in 1996 and became step-father to Kim (Brent) Straatmeyer.  He is survived by his beloved wife Karen, six children and one step-daughter, 32 grandchildren and four great-grandchildren.
          Graveside service for family only were held at the Grand Valley Cemetery of Canton, South Dakota.  In lieu of flowers, memorials may be made to the National Alliance for the Mentally Ill (NAMI.)  www.andersonandsonsfh.com