Visitation: Visitation will be Monday, May 2nd from 2-7 p.m., family present from 5-7 p.m., at Anderson Funeral Home in Canton.  
Service: Funeral services will begin at 1:00 p.m. Tuesday, May 3rd at Redeemer Free Lutheran Church in Canton, SD.
Livestream: Click here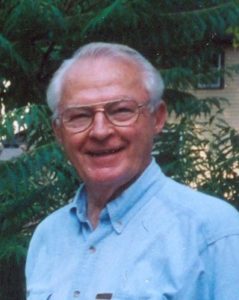 John Leroy (Gus) Frislie passed away April 24, 2022, at Sanford Heart Hospital, Sioux Falls, with his loving daughter, Sonja, by his side. John was born in Canton, June 26, 1927, to Orlando Tilford and Lydia (Millie) Frislie, the youngest of three children.
Following his 1945 graduation from Canton High School, he enlisted in the Army. Upon his return to Canton, he noticed an attractive young woman each Friday walking past his house carrying her suitcase to the train station. He offered her a ride…a ride that lasted a lifetime.   On April 22, 1949, John and Beverly Brurud exchanged marriage vows at Canton Lutheran, the church his grandfather, John Millie helped  build and where he was baptized and confirmed. John and Bev were blessed with 73 years of marriage, 6 children, 13 grandchildren and 28 great grandchildren.
In the early '50's John and his brother, Don, started Frislie Brother's Men's Clothing Store next door to their mother's Canton Apparel Shop. He later worked for the Lincoln County Soil Conservation, Canton Post Office, and was Lincoln County Highway Superintendent for over 20 years. He was a County Commissioner and belonged to the Sons of Norway, VFW, Legion, & a charter member of the Lion's Club. An active member of Canton Lutheran, he served as President of the Congregation, an usher and on the Church Council.
John and Bev loved family gatherings and their home was the center of many holidays and get-togethers. They opened their home to everyone; whether they needed a listening ear, a cup of coffee, or a place to sleep…it took only a minute and a stranger became a friend! Their yard, 'Frislie Park', was a place kids played endlessly on equipment constructed by John – wearing out any grass that tried to grow! The annual  trip to Lake Florida and Green Lake in Minnesota was a family highlight. It began in the 1930s by Grandpa Millie and lasted over 80 years. Many wonderful memories were made…especially the delicious fried fish John made from his catch! Not only did he enjoy fishing, but hunting, woodworking, gardening, and playing pool with his buddies in the old Library. He and Bev's Norwegian connection led him into exploring the heritage they shared. He was the family historian!
John was preceded in death by his parents, brother, Don Frislie, sister, Dorothy Anderson, sons; Steve and Larry, great grandchildren, Sophia Rydell and Lee Wirth. He is survived by his wife, Bev, his children; Vicki (Bruce) Larson, Fargo, ND; Craig (Cheryl), Bend, OR; Brian (Sue), Atlanta, GA; Sonja (Mick) Tyrrell, Canton, SD; daughter in law Paulette Frislie, Canton. Grandchildren; Karin (Jamie) Wirth, Anne (Mike) Rydell, Sara (Brian) Halverson; Heidi (Gary, deceased) Ericson, Hope (Jason) Bryant, Michael (Karolina) Slack; Chad (Brianna) Frislie, Jeremy (special friend, Asia Collett) Frislie, Jill (Pat) Pleas; Shannon (Kenny) Greaves, Corey (fiancé Joie) Frislie, Maggie Frislie; Josh (Melissa) Tyrrell. Great Grandchildren; Audrey, Lucy, Evie Rydell; Anna, James, John Halverson; Tatum, Rickie Wirth, Quinton Vonesh; Emery Ericson, Paislee, Ty Carlson, Olivia, Lucas Slack, Benson Bryant; Jasper, Aksel, Bjorn Frislie, Mila, Sylvie, Nolan Pleas; ViChey and Otto Frislie; Hayden, McKenna Greaves; Tallen, Jase, Ellie Tyrrell.
                Funeral services will be held Tuesday, May 3, 1:00 pm, at Redeemer Free Church, in Canton, SD. Visitation will be Monday, May 2, from 2-7 PM; family present from 5-7 pm, at Anderson Funeral Home, Canton, SD. Memorials can be given to the Ukraine.