Visitation: Visitation with family present will be held one hour prior to the funeral Mass. 
Service: A Mass of Christian Burial will be held to celebrate her life at St. Dominic Catholic Church on Friday, March 11th, 2022 at 2:00 PM.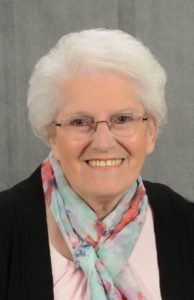 Jeanne Magdalen (Schwebach) Oliver, 86, of Canton, SD answered an important call at 12:32 PM on Friday, March 4th, 2022.  An offer of sorts, that she could not refuse, for an appointment from which she will not be returning. This offer comes with a glorious sign-on bonus, a reunion with the love of her life, and many other family and friends she has not seen in a long time.
Jeanne was born on April 22, 1935, in Remsen, IA, the eldest child of John and Evelyn (Deubel) Schwebach. She grew up in Sioux City, IA and graduated from Heelan High School.
She was introduced to Edward Bruce Oliver on a blind date by a mutual friend and often talked about waiting to see Dad's '41 Studebaker climbing up Prospect Hill near her parent's home on the west side to pick her up for a date of dancing, roller skating, or a picnic lunch at Stone State Park. They were married on June 30th, 1956 at St. Boniface Church in Sioux City. A beautiful sunny Saturday morning service at 7:45 AM. Shortly after their wedding, Edward left for military service. Jeanne worked various jobs to keep herself busy and to help provide for her parents. She also enjoyed traveling to the Oliver farm near Canton, SD and staying with her in-laws, Bruce & Jennie Oliver – she would often claim this is where she was taught the art of cooking and baking. Eventually, she was able to move with Edward, where the two of them resided in El Paso and Palestine, TX until his discharge.
Jeanne had one dream. She wanted to be a mother. After 8 years of working with Catholic Family Services, they were able to adopt their first child. She was a devoted and loving mother to Kimberly Christine, Christopher Edward, and Victoria Lynn. Her life was one of service to taking care of her children. She loved to give rather than receive. If you knew Jeanne, you knew love.  Amazing potato salad. And banana bread.
As much as Jeanne was devoted to her life as a wife and mother, she was completely devoted to Jesus. She was an active member of Christ the King parish, Cursillo, Marriage Encounter, the Charismatic and Right to Life Movements in Sioux Falls, and later went through four years of training with Edward as part of his deaconate training. She served alongside him as he was an Ordained Deacon for 20 years at St. Dominic Catholic Church, Canton, SD.
Jeanne's greatest joy was being a grandma. She insisted on healthy snacks and clean plates before desserts. And there was no escaping the warm soapy washcloth before you got up from the table! Her grandchildren will forever remember hearing "I love you with all my heart", "Peek-a-boo! I love you!', "Yummy yummy for the tummy", and "There will never be another like me".  And she was right.
She attended countless choir concerts, graduations, confirmations, dance recitals, birthday parties, football games and track meets. Cooking and baking was one of her many talents she shared with those she loved. Each of the grandkids recall their fondest memories of Grandma included Thanksgiving meals and watching her 'dig in the turkey',  her homemade stuffing (hands down the best ever), mashed potatoes, strawberry pretzel salad, pumpkin pies and fudge brownies. Tater Tot casserole is not properly made unless all tater tots are arranged symmetrically and uniformly – an inherited trait which will continue to be passed down to each generation.
Jeanne was kind and humble. Caring and gracious. Friend to everyone. If she told you she would pray for you, a handwritten list found with hundreds of names verify she did indeed keep that sacred promise. Jeanne was the epitome of a faithful and loving wife, mom, grandma, sister, aunt, and friend.
A Mass of Christian Burial will be held to celebrate her life at St. Dominic Catholic Church on Friday, March 11th, 2022 at 2:00 PM.  Visitation with family present will be held one hour prior to the funeral Mass. Interment at Forest Hill Cemetery will take place immediately following service.
Preceding Jeanne in death were her husband of 61 years, Edward, older twin siblings, sisters-in-law Judy Oliver and Clarice Schreurs, and nephews Curtis and Vaughn Schreurs, Nathan Larson, and countless friends.
Family left behind to miss her hugs, special surprises, clanging of pots and pans at 5 AM, snappy grapes, homemade mac & cheese, and infectious laugh are children, Kim Ober, Savage, MN; Chris (Denise), Bangor, WI; and Vicki (Daniel) Voss, Sioux Falls, SD; siblings, Keith (Jovita) and Don (Darlene) Schwebach, all of Sioux City, IA; grandchildren, Alyssa (Nate) Hardy, Burnsville, MN; Sarah Ober (Zach Kier), Woodbury, MN; Kristen Ober (Bryan Crossman) Burnsville MN; Coey Oliver (Hannah VanGenderen), Seattle, WA; Orrin (Kate) Oliver, Onalaska, WI; Rowdy Hillmer (Josh Davis) Shepard AFB; Sterling Hillmer, Brookings, SD; MaKenzie Voss (Curtis Traversie), Watertown, SD; and Casey Voss, Sioux Falls, SD; Great grandson, Landon Hardy, Burnsville, MN; in-laws, Ralph Oliver, Sioux Falls, SD; Arlyn Schreurs, Larchwood, IA; and Linda (Carl) Larson, Brookings, SD, along with numerous nieces and nephews.
In honor of Jeanne's life, we have one simple request. Just be kind. Be gracious. Be happy that Jeanne has escaped the burdens and loneliness of Alzheimer's and has found herself again.
In lieu of flowers, please consider a donation to Ava's House, Sioux Falls, SD in Jeanne's memory. The amazing hospice staff guided her with dignity, comfort, care and love in her final days.