Visitation: Visitation, with family present, will be Sunday, November 15 from 3-5 p.m. at Anderson Funeral Home in Canton, SD.
Service: Funeral Services will begin at 2:00 p.m. Monday, November 16th at Bethany Lutheran Church, Fairview, SD with burial to follow at Bethany Cemetery, Fairview, SD. 
Service: Livestream link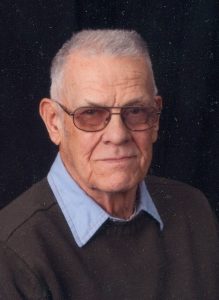 Jim passed away in his home on November 10, 2020 after suffering from cancer for the past several weeks. Jim Roti, son of Minne Mae and Myron Rotil was born in Fairview, SD on May 2,1933. He served in the 11th Airborne Division and was united in marriage to Donna Roti in 1957.
            Jim was an accomplished carpenter and skilled craftsman . These skills were passed on to his sons. He worked at Meiliman/Greenlee's Packing plant from 1966-1979 and at New Zealand Milk Producers from 1968 to 1998. Jim owned and operated Jim's Texaco from 1963 1966.
            Jim was a perfectionist in every aspect of his life. His work ethics were awesome and he was still cutting wood up until a few weeks before his passing. His motto was to "Plan your work…..work your plan", When borrowing his many range of tools, his friends marveled that he not only had the tool they needed (maybe even a backup) but he knew where to locate it. Incidentally, he also wanted it returned. He had the uncanny ability to take anything apart and fix it. As Jamie, his great grandson said, "the three J's, Jim Jeff and Jamie could fix anything".
            Jim's home was his domain where he enjoyed the company of his family and friends. His favorite vacation spot was Lake Carlos where he only missed vacationing there one year since 1968. Even though he was reluctant to admit it, he enjoyed spending time in AZ each winter. His favorite hours were with his great grandson Jamie, "hanging out" at Grandpa's, walking the trails and bridges at Newton Hills and allowing Jamie to enjoy many hours on the playground equipment.
            Inside his "gruffness" was a tender hearted kind man to the elderly and less fortunate. He was constantly giving a helping hand and donating to St, Jude, Boystown, Feeding the Hungry, etc.
            It is only fitting that Jim's services be at Bethany Lutheran Church. He was an active member, mowing the yard in the summer, removing the snow in the winter and his services will be officiated by the son of the retired Pastor Richard Gilman whom Jim admired very much.
            Jim is survived by his wife Donna, of 63 years and his children, Stephanie Olseth of Canton, SD, Jeff Roti, Fairview, SD, Mark Roti, Glennallen, AK, his granddaughter, Amy Olseth, Canton, SD, great grandson, James Olseth of Canton SD, brother David (Carol) Roti of Fairview and Doris Welch of Ft Myers, Fl.
          Visitation, with family present, will be Sunday, November 15 from 3-5 p.m. at Anderson Funeral Home in Canton, SD.  Funeral Services will begin at 2:00 p.m. Monday, November 16 at Bethany Lutheran Church, Fairview, SD with burial to follow at Bethany Cemetery, Fairview, SD.   A link to the livestream of his service can be found at www.andersonandsonsfh.com