Visitation: Family will greet visitors Thursday from 5-7 p.m. at the funeral home.
Service: Memorial services will be held at 7:00 p.m. on Thursday, December 16th at Anderson Funeral Home in Canton, SD.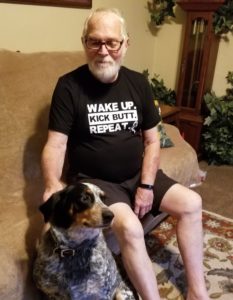 Jack Clifford Ashmore was born to Willard and Wilma (Hinkley) Ashmore on October 22, 1939, in Sioux City, Iowa.  He had 3 brothers; Roland (Nita), Jim (Jan), and Gary (Jaci).
          He served our great nation through U.S. Army from 1959 to 1966.
       Jack married the love of his life, Diana Sperle Erickson, on February 18, 1977, in Sioux City, Iowa, after a whirlwind courtship.
          Jack is survived by four children: Jaylynn (Dan) Ashmore-Prince, Danielle (Jeff) Hamann, Justin Ashmore, and Natisha (Frank) Widener; 11 grandchildren, and three great-grandchildren.
          He passed peacefully in his home on December 10th with loved ones by his side.  He is preceded in death by his parents, Willard and Wilma Ashmore; daughter, Jeana Ashmore; nephew, Sidney Ashmore; and grandson, Michael Hamann.
Memorial services will be held at 7:00 p.m. on Thursday, December 16th at Anderson Funeral Home in Canton, SD.  Family will greet visitors Thursday from 5-7 p.m. at the funeral home.   www.andersonandsonsfh.com