Visitation: Visitation will be held one hour prior to the service.
Service: Funeral services will begin at 10:30 a.m. Monday, July 16 at Canton United Methodist Church.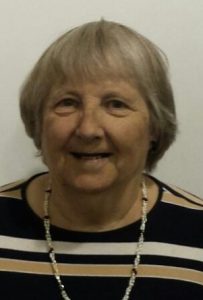 Iola (Ode) Short age 85, died Sunday, July 8, 2018 at the Canton Good Samaritan Society.  Funeral services will begin at 10:30 a.m. Monday, July 16 at Canton United Methodist Church.  Visitation will be held one hour prior to the service.
   Iola Alma Hermann was born on November 24th 1932 at home near Rock Rapids, Iowa to Earnest and Hilda (Langfeldt) Hermann. In March of 1933 Iola's family moved to a farm north of Canton. Iola went to rural Dayton grade school and Harrisburg high school for one year. The family then moved into Canton. Iola graduated from Canton High School in 1950. After high school Iola went to work at the Lincoln County Court house in the welfare office and worked there until getting married. On February 11th 1955 Iola married Robert Stephen Short at the Lutheran Church in Canton. They made their home on a farm near Worthing. In February 1957 they moved to a farm north of Canton around 4 miles from her childhood home. In 1968 Robert & Iola purchase the farm. Iola worked alongside Robert making a life on the farm. Most her days started with early mornings milking cows and taking care of livestock, then on to cooking meals, delivering lunches to the field, taking care of the house and her 3 children (who were "never" any trouble). When Robert died in 1982 Iola never gave a thought to leaving the farm. She kept everything and farmed with her kids. Living on the farm and farming with her children is what she cherished the most. Iola treasured the time spend with her grandchildren on the farm. To say they were spoiled is an understatement. Some days they worked, others they just played, sometimes they were naughty, and got to see the other side of grandma. She rarely missed a school activity football, basketball, school programs, she supported all of them in whatever they did.  She loved them all. There was always a bucket of homemade cookies and home cooked meals for anyone who came to the house. Nobody left Ode's house hungry, if they did it was there own fault. After the invention of the riding mower Iola developed a love for mowing. Good thing cause she had a lot to mow. She always had her mowing done by Friday, or so she claimed so she could go to rummage sales, often times with grandkids or numerous others in tow. She also enjoyed going on parts runs with her sister in law Wanda. If her kids or Chaney needed parts one would be on the phone to the other and off they would go. It usually took all day no matter where they went and you wouldn't believe how many rummage sales were right on the way! Mostly Iola just enjoyed living on the farm and being surrounded by family, nature and all its beauty.
   Iola is survived by 2 daughters, Joyce Short Sioux City IA and Janet Short Canton SD; 5 grandchildren, Matt, Jenny (Heath), Josh (Anne) all of Sioux City IA, Ben (Paige), Katelyn both of Sioux Falls SD; 7 great grandchildren, Mati, Aiden, Sofia, Ava, Liam, Grace and Everson; sisters, Ella Nelson, Milaca, MN and Harriet Kuehl, Canton, SD; sisters-in-law, Ardis Short, Joan Short, and Darlene Kuehl; daughter-in-law Kristi;  special nephew Bruce Short; and a host of loving nieces, nephews and friends.
   Iola was preceded in death by her son Stephen; husband Robert; parents Ernest and Hilda;sisters Lyda and Isabele; brother Delbert, and many beloved brothers & sisters-in-law and extended family members.