Service: Local committal service will be 11:00 a.m. Saturday, April 27, 2019 at Forest Hill Cemetery near Canton, SD.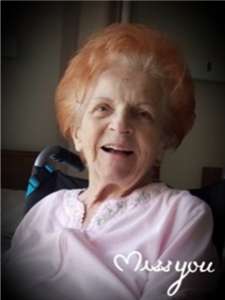 Ida Marie (Saarinen) Frislie, 93, passed away October 14, 2018 in Sutherland, IA from congestive heart failure. She was born October 10, 1925 in Portland, OR. to the Reverend John and Tekla (Toppari) Saarinen.
     Marie graduated from high school in Republic, MI and then from the Commercial Department of Suomi College in Hancock, MI. Her first secretarial job was in Milwaukee, WI. She retired as an office manager at 86 yrs. old from Lomco in CA.
     Marie loved spending time with her family, visiting with her cherished best friend Rolanda Hamilton, keeping up with the latest news and celebrity stories, watch Family Feud with Steve Harvey, reading a good book, and working challenging cross-word puzzles in ink, no less.
      She was baptized in the Christian faith by the Finnish Evangelical Lutheran Church in America and remained in faith until her final breath on October 14, 2018 in the loving care of daughter, Dianne and previously under the watchful eyes and in the loving care of daughter, Dory, son, Doug and Carrie for many years.
    Marie was predeceased by daughters Donna Frislie and Doris (Dory) Deering, brothers Paul and Daniel Saarinen, former husbands Donald Frislie and Robert Wright, and her parents, the Reverend John and Tekla Saarinen.
     Surviving her are her son, Douglas Frislie (Carrie Sandahl) of Lakewood, CA; daughter, Dianne  (Phil) Syndergaard of Sutherland, IA;  brother, Martin (Marilyn)  Saarinen of Aiken, SC;  sister, Martha Asuma  of Oshkosh, WI;  Grandchildren,  Josh (Rachel) Burns  of Odebolt, IA;  Jessica (Jason) Dykes of Sioux Falls, SD; Paul (Nora) Frislie  of Long Beach, CA; Dawn Lam of Irvine, CA; Tim Macy of Huntington Beach, CA; Andy (Kathryn) Siemers  of Huntington Beach, CA; Aaron Siemers of Huntington Beach , CA; Dawn (Fred) Crews of Henrico, VA;  Great-grandchildren Thomas of VA,  Jaxson and Henry of SD, Elwood and Frannie of IA, Zoe, Brooklyn, Addison and Kendalyn of CA; Darian, Jordan and Madison of VA; Brother-in-law, John Frislie; Sister-in-laws, Bev Frislie, Dottie Anderson, Jane Lepisto; as well as many nieces and nephews.
    Local committal service will be 11:00 a.m. Saturday, April 27, 2019 at Forest Hill Cemetery near Canton, SD.  Condolences may be sent to Doug Frislie, PO Box 41474, Long Beach, CA 90853 or Dianne Syndergaard, 6760 420th St. Sutherland, IA 51058