Service: Funeral service will be at 11:00 am Monday, April 29, 2019 at Grace Lutheran Church, 3300 E. 18th Street, Sioux Falls, with the family available for visitation at 10:00 am.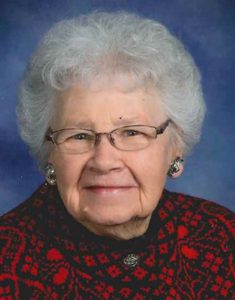 Helen Jean Eiesland, age 88, passed away peacefully Wednesday evening, April 24, 2019 at Sanford USD Medical Center.
     Helen was born July 11, 1930 in Canton, SD to Jesse and Sophie (Olson) Helgerson. She was raised on a farm north of Canton and graduated from Canton High School in 1948.  Helen went on to General Beadle State Teachers College where she earned her teaching certificate. She became a teacher at a country school, Prairie Grove. On June 1st, 1951 she was united in marriage to Vincent Eiesland at Canton Lutheran Church.  Vince and Helen enjoyed smooth strolls around the dance floor, family activities and reunions, and raising their family of nine children together.
     Helen worked as a homemaker until 1979. From 1980 until she retired, she enjoyed working with Arlyce Johnson as a commercial cleaning person, working as a childcare provider at Child's World and then eventually providing daycare for her own grandchildren in her home. Following that she worked as a staff member at Qualified Presort Services.
     Helen was an active member at Grace Lutheran Church. She joyfully worshiped, volunteered, and served in many capacities. She loved spending time with her church family and shared her talents in many ways over the years. She was a choir member, Sunday school teacher, council member, Bible school teacher, soup and pie supper coordinator, nursery volunteer, and pianist for the choir. Helen also enjoyed Bible studies and fellowship with her dear friends and "church daughters" as a member of Hannah Circle. One of her greatest joys was visiting with members and guests at Grace Lutheran where she was lovingly given the name of "church mom" by many in the congregation. Helen was a volunteer for the Center for Active Generations and the SD ELCA Synod office. In addition, she crocheted many hats, gloves, mittens, and blankets for Project Linus. She volunteered her time helping at Sioux River Valley Community Health Center. Helen also enjoyed traveling to see her children and grandchildren, watching Canaries baseball games, social gatherings with her friends and family, ceramics, bargain shopping, and keeping busy with her many hobbies. As a lifelong music lover, she enjoyed playing the piano, singing, and in recent years, learned to play an organ that entertained the residents at Prairie Village.  Her baking was appreciated by many throughout the years as she shared thousands of homemade pies, cakes, and cookies.
     Grateful for having shared her life are her children: Mark Eiesland of Sioux Falls; Marlyce Buch of Highlands Ranch, CO; Shirley Soderstrom of Black Hawk, SD; Becky (Rick) Pittenger of Fargo, ND; Joel (Patty) Eiesland of Brandon; Jim (Suzy) Eiesland of Sioux Falls; Bob Eiesland of Sioux Falls; and Laura Eiesland of Sioux Falls; 12 grandchildren, Sheri Soderstrom, Amber (Matt) Dvorak, Amy (David) Skinner, Stacie Soderstrom, Ryan (Kristina) Pittenger,  Brandon (Meredith) Pittenger, Kristen (Matt) Peterson, Sara (Jordan) Gillis, Brian Eiesland, Andrew Eiesland,  Alison Eiesland, and Alex Stavrenos; and 6 great-grandchildren: Darryan Andrews, Gavin Dvorak, Lionel and Quincy Gillis, Graham Peterson and Emery Pittenger.  Helen is preceded in death by her husband, Vincent; son, Steve; son-in-law, Dr. Jerry Soderstrom; parents, Jesse and Sophie Helgerson; brother, Kermit Helgerson and sister, Doris Olseth. Funeral service will be at 11:00 am Monday, April 29, 2019 at Grace Lutheran Church, 3300 E. 18th Street, Sioux Falls, with the family available for visitation at 10:00 am. Private interment will be at Beaver Creek Lutheran Cemetery at a later time.