Visitation: Visitation will be held one hour prior to the service.
Service: Funeral services will begin at 10:30 a.m. Tuesday, August 9th, 2022 at Canton Lutheran Church, Canton, SD.
Livestream: Click here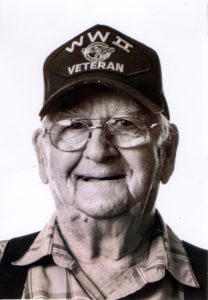 Harold Simunek, age 100, passed peacefully in his sleep, Wednesday morning, August 3rd at Fellowship Village in Inwood, Iowa. Funeral services will begin at 10:30 a.m. Tuesday, August 9th, 2022 at Canton Lutheran Church, Canton, SD.  Visitation will be held one hour prior to the service.
Harold was born December 1st, 1921 in Clearwater, Nebraska to Frank and Anna Simunek. He was the second oldest of six children, Edith, Harold, Raymond, Dorothy, Gladys, and Eugene. Harold's parents farmed in the Chambers, Nebraska area until the late twenties when they then moved to the Hammel, SD area to do the same.
Harold started school in Hammel and continued there until 1934 at which time Frank and Anna bought another farm 7 miles southwest of Inwood, Iowa. Harold completed his high school education within the Fairview School District.
Harold's first job was with John Morrel and Company in 1938 where he worked until 1941. He then headed out west to California where he worked at the Consolidated Aircraft Factory and later the shipyards in San Diego. In October 1943, he returned to Iowa and enlisted in the U.S. Army. He served in the India/China/Burma Theater with the 1380th Petroleum Unit as an Engineer/Mechanic installing pipelines throughout the Burmese Jungle. He was discharged in the fall of 1946 and returned home. He was very proud of his military service and was a lifetime member of the Canton VFW.
On his return home, he got a job as a mechanic in Inwood and helped farm on the side with his Dad and brother Ray. It was at this time his sisters introduced him to a young girl, Myva Hanzen, who would later become his wife. They were married on May 17th, 1949 in Alvord, Iowa. From this union, five children would be born. Harold continued to farm in the Fairview and Inwood area up until his retirement in 1972. After retirement, he worked at various jobs in the area until finally finishing his career at the Farmers Cooperative in Canton driving the bulk truck.
Harold and Myva loved to travel and traveled extensively throughout the United States and enjoyed spending their winters in Arizona, Texas, and California. Myva passed in September of 1993 after a long battle of cancer.
He remained active in the community of Canton and the Canton Lutheran Church and enjoyed spending time visiting with family and friends, talking with old neighbors from the farm, playing cards, fishing, tinkering on different projects and always lending a helping hand when one was needed. He loved to listen to the Twins baseball games and was proud of the fact that he maintained his own lawn and garden until the ripe age of 96. He was a great mechanic and could fix just about anything in his garage where he always spent his free time.
Harold is survived by his children: Elaine Niebuhr, Canton, Roger (Amy), Canton, Jerry (special friend Deb Atkins), Worthing, Marsha Stensland (special friend, Gaynor Johnson), Canton, Sandra Roseland, Canton; two sisters, Edith Thomas of Mt. Vernon, WA and Dorothy Jorgenson of Colton, SD; a sister-in-law Jeannie Simunek of Sioux Falls, SD; 11 grandchildren; 19 great-grandchildren; along with numerous extended relatives and friends.
Harold was preceded in death by his parents, Frank and Anna; his wife Myva; brothers Raymond and Eugene; one sister Gladys Schmidt; brothers-in-law, Ralph Schmidt, Robert Thomas and Ed Jorgenson; sons-in-law, Larry Niebuhr and David Stensland; and a special friend, Dorothy McKenny. www.andersonandsonsfh.com