Service: A memorial service will be held at 10:30 a.m. Wednesday, June 14 at Canton Lutheran Church in Canton, SD.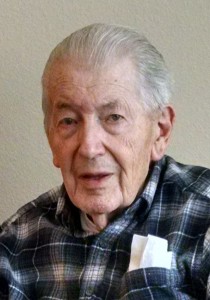 Hans Rath MD was born in Worland, Wyoming on May 19, 1928 and passed away in Canton, South Dakota on June 11, 2017.  He was the second of three sons born to Rosina and George Rath, immigrants from the German communities of the Ukraine who fled the Russian Revolution in the early 1920s.  As a child, Hans played the organ at his father's church in rural Jefferson County, Nebraska.  He was profoundly impacted in his early years by the tragic death of his older brother George from a car accident which set Hans on his path for a career in medicine.  He graduated from Fairbury High School and, always a superior student, was awarded a Regent Scholarship to the University of Nebraska in Lincoln where he was a premedical student. He was accepted to the University of Nebraska Medical School where he graduated with distinction at the top of his class.  He was awarded membership into the Phi Beta Kappa Society for his undergraduate academic achievements and membership into the Alpha Omega Alpha (AOA) Society for his medical school academic achievements.
          Hans interned at the University of Illinois Hospital in Chicago then served two years in the United States Army as a First Lieutenant stationed in France.  After completing his military service, he began his surgical residency at New York Downstate Medical Center at Kings County Hospital in Brooklyn,  New York.  On December 22, 1957 Hans married Betty Huttenmaier, who he had met as an undergraduate in chemistry class at the University of Nebraska.  Betty, a registered nurse and nursing instructor at Barnes Hospital in St Louis, moved to New York for Hans to continue his residency ultimately completing the five year program as chief surgical resident.
          Hans, Betty and their infant son Dan moved to Omaha, Nebraska where Hans began his surgical practice.  He practiced in Omaha and the surrounding towns (primarily Blair, Tecumseh and Humboldt Nebraska) for 40 years.  He was well loved by the communities he served, his patients, his colleagues and the hospital staffs.  The nurses who worked with him referred to him as the Gentleman Surgeon due to his kind, calm and respectful treatment of all around him.
          After retiring from his medical practice at the age of 72, Hans volunteered for 13 years as an Anatomy Instructor at the same medical school where he was a student.  He delighted in teaching and sharing his knowledge and experiences with students often finding great fun in discovering his students to be the grandchildren of his colleagues and medical school classmates.
          Art and music were also very prominent in Hans' life.  He played the piano, sang with a choir at the German American Society and filled their home with beautiful paintings that he painted.  He particularly loved Opera and the art of the French impressionists.  Flower gardening was his other past time and in the evenings he would make "flower rounds" which was quality time with family.
          Hans and Betty had two children: George Daniel Rath MD, a physician practicing in Canton, South Dakota and Heidi Rath Hope PhD, a research scientist in St Louis, Missouri.  They have six surviving grandchildren.  Hans loved spending time with his grandchildren, 'the Rath Half Dozen' as he called them, planting a love of academics, art, music and humor in them.  He often joked that his encouragement and support for education in his children and grandchildren allowed his to say that he has partial claim to multiple academic degrees from institutions such as Stanford University, Washington University in St Louis,  Black Hills State University, Emory University, South Dakota School of Mines and the University of Maryland.
          Hans is preceded in death by his parents, his brother George and his granddaughter Maria.  He is survived by his wife Betty, his son George Daniel (Mary) Rath, his daughter Heidi (Michael) Hope, his brother Otto (Janet) Rath, his grandchildren Austin Hope, Kristin Rath, Kellen Hope, Joseph Rath, Isaac Rath and Sarah Rath as well as many nieces and nephews.
           A memorial service will be held at 10:30 a.m. Wednesday, June 14 at Canton Lutheran Church in Canton, SD.  Burial will be held Thursday at the Omaha National Cemetery.