Service: Private family services will be held.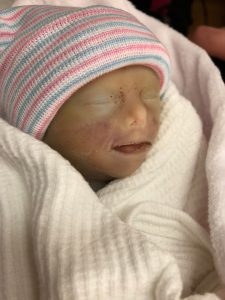 Grace Alice Schroder was born on April 21, 2019 and passed away peacefully, in the arms of her mom and dad, on May 1.  Though she was born at 23 weeks gestation and weighed just over a pound, she was small but fierce. Her fighting spirit was already obvious to her family, as she survived much longer than was expected due to problems in pregnancy. Born on Easter, she gave her family a reminder that grace is always born on Easter. Gracie was supposed to be born second but preceded her twin sister by a few minutes. She also breathed her last breath as her parents and grandparents sang "Amazing Grace."
    Gracie is survived by her parents Ray and Kaylee Schroder and her twin sister Blakely of Inwood; her grandma Mary Alice Schroder of Newton, Iowa; her grandparents Jerome and Tami Van De Stroet of Inwood; along with numerous uncles, aunts, and extended relatives. She is preceded in death by her grandpa Bruce Schroder and her uncle Bruce Schroder, II.
   In lieu of flowers, the family would be honored by donations to the Ronald McDonald House, 825 S. Lake Avenue Sioux Falls, SD 57104 or the Children's Miracle Network, ℅ Sanford Health Foundation, 2335 E. 60th St. N. Sioux Falls, SD 57104.