Visitation: Visitation will be one hour prior to the service at the church.
Service: Funeral services will begin at 11:00 a.m. Thursday, November 5 at Canton Lutheran Church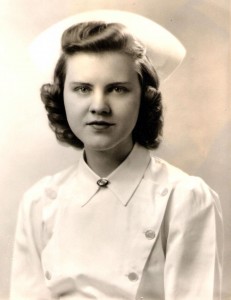 Gloria Juliette Erickson, age 93, died peacefully on Saturday, October 31, 2015 at Lyngblomsten Care Center in St. Paul, MN. Funeral services will begin at 11:00 a.m. Thursday, November 5 at Canton Lutheran Church in Canton, SD. Visitation will be one hour prior to the service at the church.
Gloria Juliette Ristvedt was born August 18, 1922 in Watertown, SD to Hilbert and Julia (Hegland) Ristvedt. She was the youngest of four children, and grew up on the family farm near Florence in Dexter Township. Her rural upbringing gave her a lifelong love of South Dakota community spirit, family-centered hard work, and a fulfilling and extremely active church life.
Gloria graduated from Florence High School. She then attended Waldorf College, receiving her AB degree. She graduated from Fairview School of Nursing in Minneapolis with an RN degree. It was as a young student nurse that she met and fell in love with Luther Theological Seminary student Erling Norman Erickson. They were united in marriage in Moorhead, MN in 1945 and were blessed with three children. Erling and Gloria served Faith Lutheran in West Fargo, ND, Calvary Lutheran in Lemmon, SD, American Lutheran in Huron, SD and Canton Lutheran and Grand Valley Lutheran in Canton, SD. Gloria continued her education as a busy mother with an active family life, returning to work as her children grew older. She received her BA from Huron College in 1974 and her MA in Psychiatric Nursing from University of SD in 1978. She had long-standing involvement in psychiatric care and worked with her husband and community in the development of the Central SD Mental Health Center and the founding of Our Home Inc. She worked in Huron as an RN at Violet Tschetter Nursing Home and as a nursing instructor at St John's School of Nursing. She taught at Sioux Valley School of Nursing in Sioux Falls after moving to Canton and was particularly passionate about her mission of educating SVSN students in the care of psychiatric patients at the Veterans' Hospital. Gloria felt privileged to serve on the board of the Carroll Institute in Sioux Falls. She finished her nursing career as an RN and Medical Procedures Instructor at Good Samaritan Center in Canton, SD.
Gloria and Erling were always busy with artistic and political interests throughout their lives, but especially in retirement she threw herself wholeheartedly into Norwegian rosemaling, continuously taking classes from gold medalist instructors and serving on the board of the South Dakota Rosemaling Association. She was tickled to be asked to paint all the downtown garbage cans in Canton with her beautiful rosemaling. Her family and friends cherish the many gorgeous pieces of her art that she gave them over the years. She also enjoyed playing bridge, WELCA, her many PEO activities and keeping their lovely home so warmly welcoming and hospitable to all their friends and visitors. Above all, Gloria doted on her darling grandchildren and great grandchildren, and was always concerned with their education, well-being and happiness.
She is survived by son David Erickson of Minneapolis, MN and two daughters, Elizabeth Erickson Noren, Taylors Falls, MN, and Ruth Erickson (Masahiko Taketomo), Ridgewood, NJ. Gloria leaves six grandchildren, Anders Noren (Carolyn Williams-Noren), Peter Noren, Anna Noren, Kristian Taketomo, Erik Taketomo, and Edward Taketomo; two great-grandchildren, Ingrid Noren and Iris Noren; along with several nieces and nephews and their children. She was preceded in death by her husband, Erling; her parents; one brother, Norval Ristvedt; two sisters, Thelma Roberts and Ione Nelson; and two brothers in infancy. In lieu of flowers, memorials may be directed to ELCA World Hunger.